African Fusion November 2016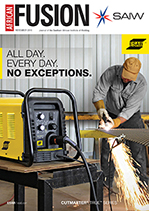 Front cover story:
TRUE series plasma cutting, ideal for SMMEs
African Fusion talks to ESAB South Africa's country manager, Kim Brightwell about the release of its new hand-held range of plasma cutting equipment, the Cutmaster True series, a simple, robust range of plasma cutters ideally suited to small, medium and micro enterprises (SMMEs). Download the PDF.
Read more ...