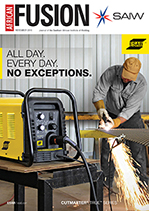 Front cover story:
TRUE series plasma cutting, ideal for SMMEs
African Fusion talks to ESAB South Africa's country manager, Kim Brightwell about the release of its new hand-held range of plasma cutting equipment, the Cutmaster True series, a simple, robust range of plasma cutters ideally suited to small, medium and micro enterprises (SMMEs). Download the PDF.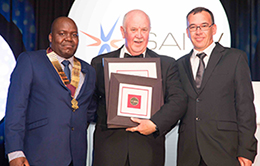 Sean's comment
In is final comment for 2016, Sean Blake thanks SAIW sponsors and for their "astounding' response; congratulates award winners and highlights the contributions made by SAIW's new Honorary Life members: Jim Guild; John McLeish and Louis Breckenridge. Download the PDF.
In spite of a very difficult year for the welding, fabrication and steel industries, we had an excellent response to our annual dinner this year and were again able to fill Golf Reef City to capacity. I was astounded by the response we received from our sponsors and I am very grateful for their contributions. So a big thank you to all our sponsors, without your support this event would not have been possible.
Featured content for November 2016
The final issue of African Fusion in 2016 opens with SAIW's 68th Annual Dinner and Awards celebration. In spite of a difficult year, the South Africa welding fraternity attended in numbers to celebrate the achievements of Industry stalwarts such as Jim Guild, John McLeish, Louis Breckenridge, now Honorary Life members of the Institute. African Fusion congratulates all of the award winners: Wessels Vermeulen; Berita Blaauw; Pieter Pistorius, Charl Osmond and Kris Kruger; and the most deserving Gold Medal award winner, Jim Guild.

SAIW news pages also feature the 2016 SAIW Welding challenge; news about the new 2017 training courses and the day of inspiration for women in NDT event that was held at the CSIR during October.

This issue's SAIW Member profile features Kelvion Thermal Solutions and Kelvion Services. We talks to Alex Dreyer, Pieter Herbst and welding engineer Angel Krustev about Kelvion's history as a heat transfer and cooling plant pioneer in South Africa.
Our first paper is from the 2016 IIW Conference in Melbourne and was presented by CJ Van Niekerk, M du Toit and L Kuzmikov. It describes an investigation into the influence of welding parameters on the susceptibility of X70 Linepipe Steel to weld metal hydrogen-assisted cold cracking (WMHACC).
Also from the Melbourne conference is a short paper by P Kuebler of BOC and R Lenzi of Robot Technologies Systems Australia, about an innovative robotic welding and cutting system developed for mining equipment and infrastructure.
Our industry section has a rich collection of features, including:
• News from Afrox about the unveiling of its R60-million KZN investment in Riverhorse Valley, Durban North.
• Yaskawa's 'on-the-fly' fibre laser robotic welding system that has recently been installed at Adient Pasdec's seat manufacturing facility in Port Elizabeth.
• The new consumable's market strategy from the welding division of Böhler Uddeholm Africa.
• A visit to Lincoln Electric's Welding Technology Centre open day and an article about the company's high deposition rate submerged-arc welding process.
• Highlights from the novel Migatronic range of welding equipment now available through the company's subsidiary, Weld-Cut, Southern Africa.
• And Renttech SA's debut of its Uniarc Twinpro twin pack welder/generator.
The Welding and cutting forum includes news from Kemppi; Babcock; Fronius Sandvik Welding; Gammatec; and DCD Venco, while our Today's technology page features Linde's Lindoflamm solution for optimal pre-and post-heating.