ON THE COVER:
In this edition, Capital Equipment News covers exclusively the arrival of the new Holland Lift HL-275 D27 mega scissor lift into Goscor Access Rental's ever-growing fleet. With its 6,15 x 2,5 m deck measuring 8,25 x 2,5 m when fully extended, as well as its ability to lift a tonne of weight up to its full working height of 27,5 m, this is said to be the biggest scissor lift available in sub Saharan Africa at this stage.
IDS, a local one-stop solution provider for affordable commercial and cold storage design, manufacture and installation, became the first company in South Africa to take delivery of the new machine.
Nici Verster, general manager at Goscor Access Rental, explains that the Holland Lift unit first fell on Goscor Access Rental's radar when the local access rental company paid a visit to bauma Munich 2013 in Germany, the premier construction equipment exhibition in the world. Goscor Access Rental immediately put plans in motion to introduce what Verster terms the "Rolls Royce" of scissor lifts locally.
"The South African market will definitely benefit from the application of this machine, especially when you consider major projects underway at the moment such as the Kusile and Medupi power stations for Eskom," says Verster. Ideal applications range from cladding to plastering, as well as general electrical and construction work.
Goscor Access Rental is introducing the new machine to cater for the latest trend in the warehousing and distribution sector for larger facilities requiring ever-bigger access equipment in order to maximise productivity and efficiency. "All the technology we source is not only the best in the world from a features, quality, and durability point of view, but is also aimed at ensuring our customers benefit from the lowest total cost of ownership at the end of the day," adds Verster.
Bridging the gap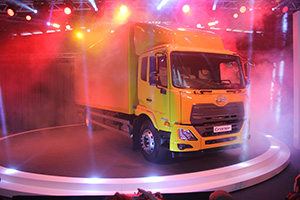 UD Trucks' Croner, an all-new heavy commercial vehicle, has rolled off the production line to bridge the product gap created by the discontinuation of the Condor.
The discontinuation of UD Trucks' Condor in South Africa in 2015, after having served the local market with ultimate dependability for many years, left a product gap in the heavy commercial vehicle (HCV) segment for both UD loyalists and UD Trucks Southern Africa. The product void in the HCV segment, which Rory Schulz, marketing director of UD Trucks Southern Africa, terms the "bread and butter" of the industry, also negatively impacted on UD Trucks Southern Africa's total unit sales in 2016.
Having been unveiled globally at a glamorous international launch event in Thailand in March this year, the new UD Croner – named after God of time in Greek mythology – is expected to hit the South African shores in June this year. Production has already started in Thailand.
Croner is an all-new heavy duty truck which is specifically designed for growth markets across Asia, Africa, Middle East and South America, according to Jacques Michel, Senior Vice President of Group Trucks Asia.
The UD Croner comes in three gross vehicle weight (GVW) models – MKE, LKE and PKE – and their three wheelbase variants can offer up to 21 different basic configurations to suit specific needs of various industries.
It can be adapted for any heavy duty role with an array of wheelbase selections to deliver greater productivity. There are six basic wheelbase choices ranging from 3 450 mm to 5 500 mm available for 11 t, 12 t, 14 t, 15 t or 17 t GVW variants. Longer wheel base choices of 6 000 and 6 500 mm are also available for 15 t and 17 t GVW variants.
Keeping an open mind on compact loading choices
Choosing between a compact wheel loader and a skid steer, whether for outright purchasing or renting, calls for an open mind. When it comes to compact loading, the skid steer has always been the preferred solution, not only in Africa, but on a global scale. Available statistics show that the world demand for skid steers reached about 60 500 units in 2011, compared with 19 500 for compact wheel loaders during the same period. These figures show that the skid steer, at the time, was preferred on a 3:1 ratio over the compact wheel loader.
While the skid steer is traditionally the most treasured compact loader, the compact wheel loader is challenging the status quo. Caterpillar is one of the OEMs offering a world class product line-up in both these product families, giving operators an unmatched range and choice to suit their individual needs.
According to Jas Kundra, wheel loader product & application specialist at Caterpillar, compact wheel loaders are fast becoming a popular choice for some skid steer applications. "Given the fact that compact wheel loaders now come with a skid steer coupler, high flow options and attachment controls, don't be surprised if you continue to see operators migrating across to an articulated loader as their machine of choice in order to get the job done."
Gehl is another OEM with a strong line-up of both skid steer loaders and compact wheel loaders. According to Gavin Leask, Gehl Product Manager at Manitou Southern Africa, the sentiment that compact wheel loaders are becoming more relevant in certain sectors such as landscaping has become more apparent since the company introduced its bigger AL750 articulated loader range in the last quarter of 2016 in southern Africa. The arrival of the AL750 has increased Gehl's articulated range to four models available for the southern African market.
"We have noticed that there was a gap in our product range that we can now close with a more productive, versatile unit, as opposed to only having skid or track steer units. Obviously both units have their market, and there will always be a place for each within the industry, but the gap is certainly getting smaller in this department," says Leask.
If you are a steadfast skid-steer user, or a firm believer in the abilities of the compact wheel loader, who wants to approach an equipment purchase or rental thoughtfully, how do you even begin to evaluate the relative competencies of the two machine types?
"The choice shouldn't always be biased on what is favoured most, but what works better, easier and quicker in a particular application, offering cost effective and timely execution of the job at hand," says Lofty van Wyk, director of MultiOne South Africa, the exclusive southern African dealer for Italian articulated compact wheel loader maker, MultiOne.