ON THE COVER: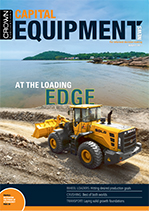 The big read in this edition of Capital Equipment News is a focus on the launch of a new wheel loader in southern Africa. Babcock has introduced the new SDLG L958F, a 5,4 t wheel loader that ticks all the right boxes for fleet owners seeking a reliable, yet affordable machine that gets the better of re-handling duties in diverse applications, including quarries, agriculture and ports, to mention a few.
The L958F forms part of the four new SDLG wheel loaders launched earlier this year for Middle Eastern and African markets. Three other models – the L953F, the L956F and the L968F – complete the new F-Series family, which benefits from a modern design and a host of technical enhancements.
The first to arrive in southern Africa is the L958F, with Babcock bringing in the first four units at the start of July. "We have launched the L958F at this stage. The first four units have already been sold and delivered. We have seen a great deal of interest in the new L958F. The next batch, set to arrive later this year, has already been sold out as well," says Grant Sheppard, SDLG brand ambassador at Babcock's Equipment division.
Notably, the new wheel loader benefits from a radical feature upgrade over the previous L-Series, but with no substantial price hike. Sheppard says the machine is designed to meet the demands for customers looking for a high-performing, reliable, easily operable and cost-effective wheel loader. "It's a vastly improved machine compared with the previous L-Series, with an array of new features," says Sheppard.
Behind the new design of the L958F are several new features and technical improvements for enhanced productivity, reliability and uptime. A key feature upgrade is the new SDLG VRT200 transmission, which offers an 8% increase in comprehensive efficiency over the older ZF 4WG200.
With four forward gears, four reverse gears and a large adjustment range of speed ratio, the new transmission gives full play to the engine power for improved fuel economy. The VRT200 transmission also benefits from an electro-hydraulic shift with functions of kick-down, power cut-off and shift interlock, making the gearshift stable. A ladder buffering design for the clutch improves shift stability. Maintenance is also convenient on the VRT200 compared with the 4WG200; not only can the transmission and transfer case be separated, but also contains an external pump for easy access.
Hitting desired production goals
For speedy and economic execution of projects, proper choice of equipment is of preliminary importance. A wheel loader is one such crucial piece of equipment on any earthmoving site, and spec'ing the right unit for the right job is of principal significance. There are various issues to consider when looking at acquiring a wheel loader for a jobsite, ranging from suitability for job conditions, size of matching units, all the way to driveline options, bucket selection, electronic features, payload systems and more.
Todd Tuntland, Product Application Specialist – Large Wheel Loaders at Caterpillar, tells Capital Equipment News that this achievable by "right sizing" the wheel loader. "A loader is most efficient at its maximum productivity, not too big, not too small, but just right," he says.
Frank Schmitt, GPPE Wheel Loader Product Manager at Volvo CE Sales Region EMEA, says to strike the desired production goals with a wheel loader, one needs to know their production targets and the bottlenecks in their current production process. "Experience, along with tools such as Volvo SiteSimulation, will help you to match the right loader to the hauling units or your production process. The right machine size with the proper specification will help you keep your costs under control," he says. Schmitt, however, cautions that the initial purchasing price will not automatically lead to the lowest cost per tonne. "Factors such as machine availability (uptime), fuel efficiency and productivity will have a big influence on your cost per tonne as well," he says.
Dominik Brandauer, area sales manager at Liebherr Construction GmbH, shares the same view with Schmitt, saying that one can only reach the lowest cost of ownership when they know all their workflows in their production process. "The important thing is to know where your bottlenecks are through an informed job site analysis. After the job site analysis there are few more key facts that you have to observe. These include, low downtime – coordinated size of equipment; regular and organised service and maintenance; as well as your project timeline on the job site," says Brandauer.
Stephen McNeill, product marketing manager at Bell Equipment, says key to hitting production goals for the lowest total ownership cost is correctly determining the smallest machine capable of doing the job without overloading it, and this effectively maximises efficiency. "It is also key to use the correct linkage system and a bucket that has been correctly designed for the application as this reduces the vehicle power and traction needed to get into the material pile, which results in less tyre wear and uses less fuel usage," says McNeill. "This also reduces unnecessary exertion on the wheel loader in general, which has a positive knock-on impact in terms of maintenance and vehicle longevity."
Miguel Angel Torres, business director at CASE Construction Equipment Africa, says either for feeding a plant or for loading trucks, wheel loader uptime on site is the key to controlling costs. "Optimising productivity at lower total cost of ownership is best achieved through a combination of factors such as dealer backup, proper sizing, configuration of the machine, fuel efficiency and maintenance cost optimisation," says Torres.
Best of both worlds
Primarily due to the mobile and versatile nature, mobile crushing equipment has taken a very important place in operators' portfolios, especially crushing contractors. But, with challenging operational conditions driving changes in priorities, fuel savings and energy efficiency have also become major factors in influencing buying decisions.
To offer customers the flexibility to operate fully mobile crushing equipment that can be powered from mains electricity or run self-powered where needed, several original equipment manufacturers (OEMs) have introduced a range of dual-powered solutions to meet customer's demand for various power-source configurations.
Dual-powered crushers are both electrically and hydraulically driven, giving customers an alternative energy source to operate their range of equipment. Dual power crushers are fitted with an electric/ hydraulic drive system that can be connected to an external electricity supply once the machine has been set up on site. These machines can also fitted with an onboard generator, allowing the operator to electrically power the machine, even where there is no mains electricity supply.
The dual power system provides flexibility to address a number of challenges and opportunities. Once positioned onsite and connected to an external electric power source, the unit can be switched to operate on electricity, meaning it will have zero emissions, while retaining all the benefits of a mobile machine.
Some of the names that come to mind as far as this technology is concerned include Sandvik, Terex Finlay, Metso, Kleemann, Powerscreen and Keestrack, to mention a few. In 2015, Terex Finlay launched dual powered variants of its existing J-1175 jaw crusher and C-1540 cone crusher. These two machines joined the Terex Finlay 694+ dual powered inclined screener that was launched early in 2014. Introduced locally by local dealer, Bell Equipment, the product launches meant that Terex Finlay could now offer operators a full mobile crushing and screening train that can be powered from mains electricity and had the flexibility to run self-powered if required.