ON THE COVER:
The leading story in the October edition of Capital Equipment News is our focus on the major parts support boost for Cat® equipment owners in southern Africa. Parts support for Cat machines working in southern Africa has taken a quantum leap following a one-of-a-kind collaboration between Caterpillar and southern African Cat dealer, Barloworld Equipment.
Fittingly coinciding with the 90th anniversary of their partnership, Caterpillar and Barloworld have officially opened a new, state-of-the-art parts distribution centre in Kempton Park, Johannesburg, that will dramatically reduce the time it takes for customers to order and receive Cat parts and consumables.
Barloworld Equipment's customer partnerships are built around aftersales service, which includes repair options and component rebuilds that keep machines healthy and productive through first and subsequent lives to save costs for customers. The new parts facility will reinforce this strategy.
The collaboration, in the interests of adding customer value, testifies to the sustainability of the 90-year partnership between Barloworld Equipment and Caterpillar. The new parts facility also underscores Caterpillar's belief in growth in southern Africa and its commitment to continued development across the continent.
Barloworld Equipment's retail operation at the distribution centre will occupy 3 500 m², including a parts counter and sales office.
"This arrangement is the first of its kind in the Caterpillar network and further improves our industry-leading aftermarket parts distribution network across the region. The initiative is another example of our close collaboration and partnership with Barloworld Equipment by leveraging our parts inventory data to significantly improve the Caterpillar customer experience," says Chris Monge, manager of Caterpillar's southern African regional office in Johannesburg.
Highlighting commitment to truck safety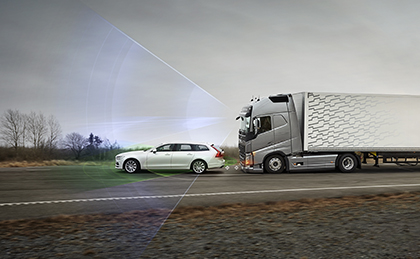 In a move that underscores its commitment to truck safety, Volvo Truck South Africa has invested R6,5 million in a new calibration centre at its Durban SKD assembly plant that allows the OEM to install and calibrate selected unique active safety features previously not available to the local market.
The new facility and related equipment will allow the truck maker to install and calibrate features that form part of the Volvo Active Safety Package recently made available to the local market. Available as options on most Volvo truck models fitted with Electronic Brake System, Electronic Stability Control and DiscBrakes, the active safety features can now be installed locally.
Malcolm Gush, sales director at Volvo Trucks South Africa, says previously Volvo Trucks SA had to import trucks specified with active safety features. Local installations started in April this year after commissioning the new calibration facility. "The reason we have introduced local installation is to reduce the cost of importing the trucks with active safety features, especially considering the duty implications," says Gush.
Gush has seen an increased interest in active safety features by local truck owners. He reasons that early adopters of these innovations are forward thinking companies that embrace safety technologies because of their experience with the cost of a collision to their businesses. He adds that the R45 000 cost of the Volvo Active Safety Package is insignificant compared to the cost of accidents.
More than a dirt mover
The modern hydraulic excavator continues to be one of the most prominent pieces of equipment on any earthmoving site. Continued innovations in hydraulics, electronics, telematics, operator comfort, as well as increased flexibility to easily accept a wide range of hydraulic attachments, have combined to make the hydraulic excavator more than just a dirt mover.
The basic nature of an excavator makes it versatile, thus increasing its productivity. But, attachments have become the key element in an excavator's versatility. Key to this is the continued focus on improving coupling systems by OEMs to allow better handling of an array of attachments.
"Most hydraulic operated attachments can now be fitted to our range of excavators without any need for modifications as the machines come factory fitted with two-way piping with foot-operated controls," says Corne Coetzer, Product Manager: Kobelco Excavators at Bell Equipment. "Hydraulic flow can also be adjusted from inside the cab at the flick of a button. This alleviates the need for flow gauges and mechanical adjustments on the pump itself. This is now a standard on all of our machines up to, and including, the SK500. Kobelco machines also allow for the switching between single and bi-directional hydraulic flow within the cab."
Roger Teece, Product Manager for Volvo CE, Sales Region EMEA, says apart from hydraulic improvements, to optimise attachment usage on its machines, Volvo CE offers a range of quick couplers, allowing the operator to quickly and efficiently change between attachments. "In certain markets and certain models, we have a Tiltrotator system available as factory fit, which provides ultimate versatility for our excavators," says Teece.