ON THE COVER:
The leading story in the first edition of 2018 focuses on a wise buying decision by PPC Slurry, which is purely based on operational gains amassed on site. Following massive operational gains reaped since its decision to deploy Scania mining tippers at its limestone mining operation, PPC Slurry has further expanded its fleet with three more units, bringing to seven its complement of Scania Mining's hauling solution.
Speaking at the handover ceremony of the three new acquisitions, Andre Niemand, technical advisor: Mining at PPC Slurry, reiterated that the Scania solution has ticked all the right boxes for PPC Slurry, and it has become a haulage solution of choice for the operation moving forward. "Going forward we will stick to Scania's mining tippers for our haulage needs. The Scania mining solution has lived up to the standard we want. Through continued consultation, they have managed to produce a durable and reliable solution that fits our bill," explains Niemand.
Niemand says Scania's willingness to tailor the trucks to Slurry's unique specifications, and the lower total operating costs, were the major reasons behind the latest buying decision. He highlights that with as much a 20% saving on maintenance costs and massive fuel savings as high as 50% compared with the previous range of conventional yellow metal haulers, among other several other benefits, the Scania mining solution has ticked the right boxes for Slurry, especially considering the current tough economic conditions.
Consequently, PPC Slurry is planning to place an order for two more units early this year to bring the total complement of its Scania mining tippers to nine. This is in line with the operation's production targets. "As we will commission our new Kiln 9 this year, we will need to put 15 000 t of material through the crushers a day, translating into 1 000-1 200 t per hour. With the current range of 32 t Scania mining tippers, we will need a total of nine to meet these targets," says Niemand.
When the existing units reach their replacement cycles, Niemand will, in future, look to acquire the recently-launched 40 t Scania G460CB8x4EHZ mining tipper units. The 40 t mining tipper will meet Slurry's targeted production volumes with a total of seven trucks. For Niemand, a key benefit is the reduction of total vehicles operating on site, obviously with safety in mind.
Meanwhile, getting rid of the few remaining rigid haulers on site will allow Slurry to scale down its loading tools. The current generation of Cat 988 loaders will be scaled down to Cat 986 front-end loaders to suit the size of the Scania mining tippers. This translates into reduced fuel consumption, due to the smaller size of the loader, while a major saving in the upfront capital cost is very apparent.
Reiterating the appeal of automatics
The advent of automatic and automated transmissions in extra heavy-duty commercial vehicles is taking centre stage. We have seen several new truck launches in recent years going the automatic route as the appeal of automatics goes far beyond driver preferences, with uptime, fuel consumption, safety and maintenance costs, among the major drivers of the increased uptake.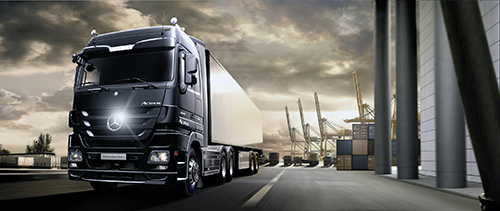 Automatic transmissions are nothing new; they have been around in automotive applications in one form or the other since the 1940s. But adapting them for use in heavy-duty trucks proved to be difficult for a variety of reasons – not the least of which was the inability of mechanical engines and transmissions to "talk" to one another and ensure optimal vehicle performance across an array of applications, road conditions and cargo/payload configurations.
However, the recent arrival of several new truck ranges with automatic or automated transmissions is testimony that some of the early concerns, through strong R&D regimes, have been rectified. For example, last year UD Trucks launched its Croner, an all-new heavy commercial vehicle, and one of the major talking points of the new truck range is its automatic transmission option.
Gert Swanepoel, MD of UD Trucks Southern Africa, says the automatic transmission is a game changer for the truck industry as it helps lower operating costs and downtime, bearing in mind that the traditional manual transmission is more susceptible to wear-and-tear, especially to its clutch in the long run.
Duncan Prince, manager – Specialised Heavy Trucks Western Star & MB Actros SLT at Mercedes-Benz South Africa, reasons that probably the biggest reason for the migration to automated manual transmission on heavy trucks is that it gives better fuel consumption than manual transmissions. "If you are talking about extra heavy vehicles, fuel can account for anything from 35% to 60% of your total operating costs. So, an AMT is a natural progression towards controlling the larger part of your operating costs," says Prince.
Prince adds that the AMT basically offers better fuel consumption because the decision-making and the logic is consistent all the time, as it is not dependent on the driver's mood of the day. "However, if you have an excellent driver in a manually-driven vehicle, you may only see a fuel saving of 1-2% compared with an AMT. If you have a poor driver, fuel savings can go as high as 30%. An AMT allows an average driver to be a good one, and allows a really poor driver to probably be slightly better than average," says Prince.
Lifting across multiple applications
During the course of this year, Liebherr will introduce a total of eight new telescopic handler models in 26 different versions to the global market. Available in two model lines, the range will offer lifting heights from 6m to 10 m.
At its international press event attended by Capital Equipment News in Austria late last year, Liebherr announced that as of January this year, the original equipment manufacturer (OEM) will introduce an extensive line of telescopic handlers that will address the needs of several customer groups.
The eight new models, available in 26 different versions, will be available in two model lines, comprising the top-of-the-range models for materials handling or production applications (identified by the suffix S), as well as the simple, cost-optimised value models for stacking and lifting applications.
"As of January, we will be producing three 7 m models with a load bearing capacity of 3,2 t; 3,6 t; and 4,1 t; as well as one 6 m model with a load bearing capacity of 3,5 t and one 10 m model with a load bearing capacity of 3,3 t," says Martin Längle, MD of Sales – Liebherr-Werk Telfs GmbH.
Two additional 7 m models with load bearing capacities of 4,6 t and 5,5 t will follow during the course of 2018. "A 9 m model with a load bearing capacity of 6 t will complete the extensive range of the new Liebherr telehandlers for the time being," adds Längle.
Driving the new generation of the Liebherr telehandlers are the preferred Deutz engines. With a displacement of 3,6 l with 74 or 100 kW, as well as a displacement of 4,1 l with 115 kW of power, the Deutz motors are said to have been optimised to offer sound performance and fuel consumption. For developed markets, the engines comply with Stage IV/Tier 4 Final emission standards, thanks to the diesel oxidation catalyst (DOC) and selective catalytic reduction.
For unregulated markets or those with lower regulation emissions, Liebherr will offer engine solutions that are suited to those operating conditions. "To ensure compatibility with lower diesel grades, we will also offer telescopic handlers in emission Stage IIIa for markets that are barely regulated, or are not regulated at all, staggered over time," says Längle.