ON THE COVER:
The March edition of Capital Equipment News leads with a review of Doosan's 51 t DX520LCA excavator. With an array of features aimed at lowering fuel consumption, increasing productivity and improving cycle times, the DX520LCA has a special design focus on increased uptime and reduced total cost of ownership.
The machine copes efficiently in diverse applications, including construction, pipe laying, mining and quarrying, mass excavation and general contracting. New features include increased traction force, greater bucket digging forces and increased swing torque – ensuring improved performance and faster cycle times.
"Other design advancements comprise the large, sturdy undercarriage and counterweight which provide extra stability, a high performance mechanical injection engine for fuel efficiency and advanced technology for optimum power management and easy maintenance," explains Darrel Holton, MD of DISA Equipment, trading as Doosan, part of Invicta Holdings Limited.
The e-EPOS system (Electronic Power Optimising System) ensures economy and smoothness of operation, by providing a synchronised communication link between the engine's electronic control unit and the hydraulic system, to ensure power is delivered exactly as required.
Advantages of the new user-friendly e-POS system include ease of operation, availability of power through three selectable user modes for optimum efficiency under all conditions. This includes an automatic auto-idle mode for maximum fuel efficiency. Regulation and precise control of the flow rate required by the machine is standard and a self-diagnosis function enables technical problems to be resolved quickly. Machine settings and maintenance data are clearly displayed on a new user-friendly LCD colour monitor.
On an upward trajectory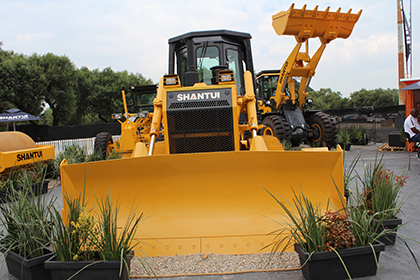 Key investments into aftermarket support capabilities have seen Ever Star Industries (ESI) turn around the fortunes of the Shantui brand since taking over the local dealership some three years ago. Testimony to the success of the customer-centric approach was the recent global excellence award from Shantui, while eight machine sales during bauma CONEXPO AFRICA reflect the brand's upward trajectory in southern Africa.
Having a good product is one thing, and being able to offer crucial backup and parts support once the particular product is operational in the field, is quite another. Based on a clear understanding of this notion, in 2014, Shantui abandoned its subsidiary approach in southern Africa and appointed Ever Star Industries, the local distributor of Powerstar trucks in the region, as its authorised dealer. The move allowed the brand to leverage ESI'sstrong dealer network of over 15 full dealers across the region, complemented by the distributor's financial strength to keep a sizeable inventory of parts to better service Shantui customers operating across the region.
Three-and-a-half years later, the move has already paid strong dividends, according to Dirk Poley, national sales manager – Yellow Equipment at ESI. Speaking to Capital Equipment News at the recently-ended bauma CONEXPO AFRICA, Poley pointed out that a strong share of the local bulldozer market, growing customer satisfaction, a recent bronze award from Shantui in China and increasing machine sales, are key indicators that Shantui is on an upward trajectory in the local market.
Poley also reiterates that the recent success at bauma CONEXPO AFRICA 2018 reflects the hard work ESI has put in reviving the fortunes of the Chinese brand in the local market. "We concluded a total of eight deals during the show, and this reflects the level of confidence local southern African customers have in the brand," says Poley. "A total of eight machines were sold to local South African customers. These included three SD16 dozers and three SG21-3 graders. Two SD22W dozers were sold to a Democratic Republic of Congo customer."
Gaining traction in taxing terrain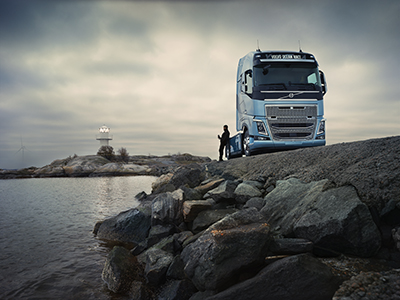 In a market that experienced an overall decline of 2,65% year-on-year in 2017, a customer-centric approach – validated by the top customer satisfaction rating in the Scott Byers Survey – steered Volvo Trucks South Africa to a record year in its 18-year presence in the country.
Following two years of decline in 2015 and 2016, the South African commercial vehicle market endured yet another tough spell in 2017. Official market figures from the National Association of Automobile Manufacturers of South Africa, Associate Motor Holdings and Amalgamated Automobile Distributors, show that the market went down 2,65% to 25 042 total units sold in 2017 compared with the previous year.
Despite tough trading conditions, Volvo Trucks South Africa defied the odds to record its strongest sales performance to date. "2017 was the best year for Volvo Trucks in South Africa in the 18 years we have done business in the country," states Torbjörn Christensson, president of the Volvo Group Southern Africa.
Volvo Trucks achieved good growth in tough market conditions, securing a 16,25% market share in the extra heavy commercial vehicle (EHCV) segment with a total of 2 074 units, representing a 0,64% increase compared with 2016. According to Christensson, this is the first time that Volvo Trucks sold in excess of 2 000 units in a year in the EHCV market.