Construction World May 2017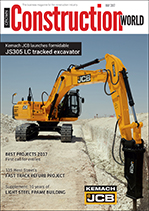 ON THE COVER: JCB Construction Equipment, solely represented in South Africa by Kemach Equipment (Kemach JCB) recently launched the JS305 LC tracked excavator.
Established in 2003, Kemach JCB is a joint venture between the shareholders of BH Botswana and Muscat Overseas in Oman. Both these companies are the sole JCB dealers in their respective countries.
Read more ...