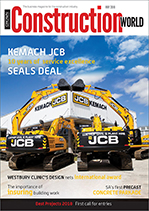 ON THE COVER: The recent delivery of four JS305LS tracked excavators by earthmoving equipment specialist, Kemach JCB, has boosted key customer, Lusthof Civil & Plant Hire's JCB fleet to 26 machines.
The relationship with Kemach JCB began in 2008 when Anton Schonken, founder of Lusthof Civil & Plant Hire, met JCB advisor, Gerhard Riekert and paid a visit to the JCB factory in the United Kingdom. Highly impressed by the professionalism, friendliness and efficiency of the JCB personnel, he decided to purchase his first JCB.
Kemach Equipment, known as Kemach JCB, was established in South Africa in 2003 is the country's leading distributor of a wide range of superior, rugged and efficient earthmoving equipment to the mining, construction, quarrying and plant fire industries.
Westbury Clinic
Westbury Clinic – a R23-million state of the art health facility that services more than 55 000 people and creates an environment that not only heals but promotes health and human dignity – won first prize in the Health Completed Buildings at the Berlin World Architecture Festival in November last year.
As the world's largest architectural award programme, the World Architecture Festival Awards drew more than 2000 international attendees. There were a total of 924 entries from 68 countries. Westbury Clinic was one of only three South African projects shortlisted for the awards and the only one to walk away with a winner's prize. It was designed for the Johannesburg Department of Health by Ntsika Architects which is headed by architect Nadia Tromp and is one of the country's first 100% black-owned architecture firms.
Formwork & Scaffolding
In the heart of Romania's capital, a new Orthodox cathedral of impressive dimensions is now under construction. Measuring 124 metres long, 70 metres wide and 120 metres high (at the base of the cross), the place of worship will accommodate up to 5 000 people. The geometrically complex panel elements such as arches, domes, half-domes, volutes, rings and cylindrical walls were designed in Amstetten by the Engineering Office Eastern Europe together with Doka engineers from Bulgaria and the Ukraine and the Structural Engineering Department.
RMD Kwikform operates in over 30 countries around the world, including Central America, Europe, Middle East, North America, Australasia, South America and Africa.
The global business has over 60 years in the business with a wealth of industry experience and expertise in formwork and falsework. Its tailored solutions for customers around the world have supported the construction of some of the world's most impressive structures.

From left: Doka's formwork and scaffolding in Romania and two projects the RMD Kwikform has worked on in South Africa.