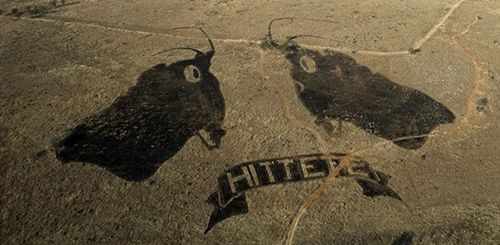 According to her, the idea was inspired by research scientist Sally Archibald, who has been looking into the importance of fire in creating productive grazing areas. "Archibald described a controlled burn as a kind of performance, and that really triggered it," Coetzee told the media during the tour of the performance piece. "It gave me the idea that I could take real scientists, real firefighters and weave it into an artwork that is really large-scale, speaking about very important and pressing environmental issues."
The end result was the 5-hectare artwork which included a 6km hike.
Coetzee collaborated with Archibald's team to create the controlled burn as an image. Archibald, who believes that controlled burns clear space for new plant growth that animals find "very tasty", and allows them to fertilise it in turn, is looking into the impact of controlled burns on insects – hence the image chosen by Coetzee.
While Coetzee is one of the first artists to be experimenting in this medium, the use of fire in drawings is nothing new. For example, Steven Spazuk, a Canadian artist, uses candle soot to create drawings.
Using a candle or torch to deposit soot, he then uses pencils and feathers to etch lines and patterns in the soot. According to Spazuk, he had a dream that inspired him to experiment with the technique, and he has spent the past 14 years perfecting it.
"It was an instant love affair with the medium. All my ideas related to soot came in those first weeks in 2001. The imprints, the entomograms etc… I had a great field of work to explore, and I was aware of all the potential ahead of me. I never stopped since. The biggest challenge in the beginning was to keep the drawings intact. It took me lot of testing with fixatives and spray varnish. Now I can say that I am mastering the spray varnish. You need a really fine spray and you need to shoot at a certain distance," he explained in an interview.
Coetzee's performance art is equally complicated, requiring a team of trained firefighters to ensure nothing goes wrong. Her "piece", however, is proof that art is about far more than beauty. Perhaps, in the future, the Highveld's open grazing land will be covered with beautiful images, and the animals will be "inspired" to better fertilise these areas.
Credit: Annelie Coetzee via AP
Or spazuk.com | Youtube | Facebook (h/t: lustik, colossal)