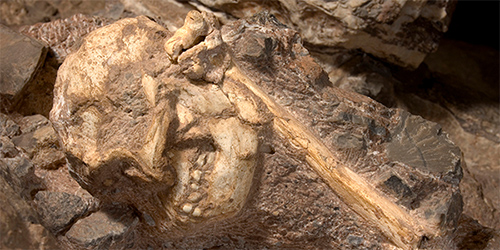 This week saw the unveiling of one of the oldest and most complete skeletons of humankind's ancestors. Dubbed Little Foot, the fossil is estimated at around 3.67 million years old, making her about 500,000 years older than Lucy, the famous skeleton found in Ethiopia.
Little Foot and Lucy are both Australopithecus, but different species of this extinct hominid genus. According to scientists, this is proof that our ancestors were spread across a far wider area of Africa, and that there were more species than previously thought.
Like Homo Naledi, Little Foot was found in the Sterkfontein caves. The excavating, identifying and reconstructing of the fossil took two decades, but Little Foot is now the most complete skeleton of a human ancestor older than 1.5 million years ever found. She is also the oldest fossil hominid in southern Africa.
Professor Ron Clarke, from the Evolutionary Studies Institute at Wits, discovered the first pieces of the Little Foot puzzle in 1994 and 1997 among other fossils that had been removed from rock blasted from a cave years earlier by lime miners. He subsequently sent his assistants into the deep underground cave to search for any possible broken bone surface that might fit with the bones he had discovered in boxes. Within two days of searching, they found more fossils.
The unearthing of the bones was a painstaking process. According to Clarke, the process required extremely careful excavation in the dark environment of the cave. Once the upward-facing surfaces of the skeleton's bones were exposed, the breccia in which their undersides were still embedded had to be carefully undercut and removed in blocks for further cleaning in the lab at Sterkfontein. "My assistants and I have worked on painstakingly cleaning the bones from breccia blocks and reconstructing the full skeleton until the present day," he said at the unveiling.
Adam Habib, vice-chancellor of the University of Witwatersrand, described the find as a "landmark achievement for the global scientific community and South Africa's heritage". "It is through important discoveries like Little Foot that we obtain a glimpse into our past which helps us to better understand our common humanity," he said.
"The discovery is a source of pride for Africans," added Robert Blumenschine, chief scientist at the Paleontological Scientific Trust, the organisation that funded the excavation. "Not only is Africa the storehouse of the ancient fossil heritage for people the world over, it was also the wellspring of everything that makes us human, including our technological prowess, our artistic ability and our supreme intellect."
Little Foot probably slept in trees, but was more like us than an ape, with shorter arms and small hands, making her the latest "missing link" in the story of humanity's evolution.
Credit:
https://www.wits.ac.za/news/latest-news/research-news/2017/2017-12/little-foot-takes-a-bow.html