Afrox has announced the availability of tailor-made welding equipment rental packages to South African customers. The company, the exclusive distributor of Miller welding equipment in South Africa for over 50 years, is making a selection of premium welding machines available for rental for short- to medium-term projects.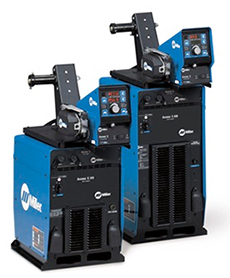 Bespoke rental agreements will give Afrox customers the choice of short or longer term rentals, delivery and collection options, maintenance packages, on-site service, and complete customer support through Afrox's national Service Engineering Offer. The agreements will be customer specific, offered on a nation-wide basis in urban hubs.
Four models from the Miller range of welding machines for large industrial applications will be made available. The Miller XMT 350, which has multi-process power sources, has been designed for welding with the MMA, DC TIG and MIG (FCAW, MCAW) methods. The XMT 350 is known for its flexibility and simplicity and features auto-line technology that allows input voltage selection from single- to three-phase power supplies and comes standard with wind tunnel technology, adaptive hot start and line voltage compensation. A process selector switch reduces the number of control set-up combinations and large duel digital meters are easy to view and pre-settable to ease setting welding output.
The rugged Miller Dimension 812 with multi-process power sources is capable of producing welds with the MIG, FCAW, MCAW, scratch start TIG, MMA and air carbon arc gouging methods. Power sources come standard with hot start and an electrode compensation circuit to ensure consistent arc control performance regardless of the electrode size. Applications include fabrication and construction, heavy manufacturing, maintenance, repair, pressure vessel fabrication, pipe welding, shipbuilding and earth-moving equipment manufacturing.
The Miller XPS 450 is a robust constant voltage package that delivers good output characteristics from a three-phase 380 V power source. It comes standard with a four-drive-roll wire feeder that presents an adjustable run-in control enabling optimal arc starting. Additional features include a trigger latch option, gas purging and burn back control and multiple inductance selection ports. Applications include medium to heavy engineering, fabrication and manufacturing of mining and construction equipment.
The last welding machine available for rental from Afrox is the Miller Big Blue 500DX Diesel. This is a rugged diesel engine driven power source capable of producing welds with the MMA, TIG, FCAW as well as the air carbon arc gouging process. The electronic engine display simultaneously displays fuel level, engine hours, coolant temperature, oil pressure, battery volts, and engine RPMs and tracks oil change intervals. It also displays engine diagnostics for quick and easy servicing.
Image credit: https://www.millerwelds.com/equipment/welders