The Eskom Expo for Young Scientists International Science Fair (ISF), which was held in Johannesburg recently, saw three young scientists being awarded bursaries worth over R1.3 million. Provided by Eskom, the bursaries are intended to allow deserving students to study engineering at the university of their choice.
Young scientists from across the African continent participated in the expo, which is endorsed by the Departments of Public Enterprises, Basic Education and Science and Technology. Learners presented innovative science projects, hoping to get a share of prizes worth over R100 000.
Grade 12 learners Nondumiso Mdletshe from Khula High School in KwaZulu-Natal, Joshua Boa-Amponsem from Empangeni High School in KwaZulu-Natal, and Sindi Matlaila from Khamane Secondary School in Mpumalanga were awarded the Eskom bursaries. Two other learners – Edrich Theodor Engelbrecht and Khilona Piyarlall – walked away with R75 000 and R50 000 prize money, respectively.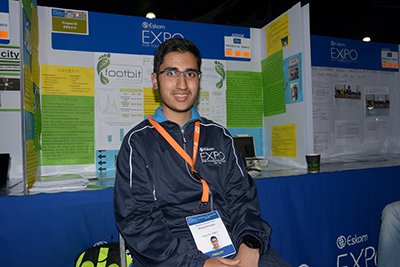 Four special awards were given at the Grand Awards ceremony that concluded the three day ISF. The Best Energy Project winner was Grade 10 learner Waheed Amanjee from Creston College in KwaZulu-Natal, while the Best Energy Efficiency Project category was won by Daniel Holmes, a Grade 7 student at Grey Boys Junior School in the, Eastern Cape. The Best Female Project was won by Khilona Piyarlall, a Grade 9 learner at Scottburgh High School in KwaZulu-Natal. The Best Development Project ward wen to Kamogelo Rakgetse, a Grade 11 learner from Abraham Serote Secondary in Limpopo.
"The Eskom Expo lived up to expectation by unearthing young scientists from across South Africa and other countries around the world. It gave the young scientists an ideal platform to show their talents and passion for all things scientific. It also served as motivation for them to pursue careers in the science, technology, engineering, mathematics and innovation (STEMI) fields," Eskom said in a statement.
The utility aims to address the shortage of skills in science and engineering by encouraging young people to pursue careers in these fields, and the bursaries are essential to achieving this goal. Speaking at the Expo, Science and technology minister Naledi Pandor urged the youngsters to be resolute in following a career in science, engineering and technology, and to go as far as they can in their studies.
"I always love coming to the Eskom Expo because it gives me a sense of what the future of our country looks like. The young scientists here are a demonstration that we as a nation can and will be a great achiever in the fields of science and technology. I was intrigued to see that all their projects seek to solve problems we are facing today and the solutions they are developing are not for their own gain but for society's benefit," she said.
Image credit: https://wetransfer.com/downloads/b4a7ffd4b08c2eb311e396e29808cb4820171005203506/c2355c