The SAB Foundation, which was launched in 2011 to ignite a culture of entrepreneurship in South Africa, has announced the winners of its annual Social Innovation and Disability Empowerment Awards. Over R9 million was awarded to the small businesses that triumphed in various categories in the awards, including Social Innovation and Disability Empowerment.
The first prize in the Social Innovation category was R1.3 million. The award went to GrassBeef by Livestock Wealth. GrassBeef, developed by Ntuthuko Shezi, is a new healthy way of producing beef that involves the upliftment of rural communal cattle farmers.
Livestock Wealth assists communities to produce good quality calves and provides an off-take agreement, by which it purchases the communities' future production. The calves are moved to a commercial farm setting and external investors are brought in to own the calves and provide for their upkeep. The new owner of the cow gets an annual return on investment of approximately 15% from the sale of the meat.
The second prize, worth R750 000, went to RailPro, the developer of the RailBus - a cost effective, low tariff transport solution that uses under-utilised rail networks. RailPro has also won the SABS design excellence award.
In joint third place, with prize money of R500 000 each, were ChemStart and Ivili Lloboya, which is a cashmere producer. ChemStart is a mini-science kit developed for high school learners containing 52 experiments, one for every week of the year, for continuous practical interaction with science concepts.
Development Awards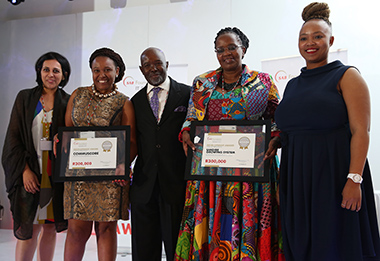 Development Awards, worth R400 000 each, were awarded to I-Drop Water and Abalobi. Another two awards, worth R300 000 each, were awarded to Commuscore and the Umgibe Growing System in this category.
I-Drop Water builds and installs specially designed water purification and dispensing machines in grocery stores at no cost to shop owners. The I-Drop machine purifies water which shoppers can then use to refill their own containers at 20% of the cost of bottled water. Abalobi empowers small-scale fishing communities to use ICTs to engage in a range of activities that enable them to participate fully, equitably and effectively in small-scale fisheries governance.
CommuScore makes it easy to manage stokvels and captures member's patterns in paying regular stokvel contributions. The captured data is then used to create a model credit score that banks can use as an alternative credit score. Umgibe Growing System is a patented water-wise recyclable agro-ecological tool.
Seed grant winners
10 seed grants of R150 000 were awarded to HearScope, Balambie, Auto Turtle, Iziko Stoves, Vuleka, Smart Agri Solutions, Seebox, Excel@Uni, Timu Trust and the Aqua Test Kit.
HearScope is a low cost, user-friendly smartphone-based otoscope used to diagnose ear disease. Balambie is a cardboard baby cot which consists of three easy to assemble panels. Balambies are made of a cost effective, environmentally friendly, safe and lightweight material.
AutoTurtle is an automated micro solar power station where the solar panels fold-away away automatically for extra security. Iziko Stoves are innovative cooking and braai stoves that use wood, coal or any biomass materials as the cooking fuel. Made from recycled paint cans, gas cylinders and geysers, these stoves are sold by rehabilitated substance abusers after completing their treatment.
Vuleka is an app through which Spaza shop owners can place orders for fast moving consumer goods. Vuleka aggregates the different orders of the different goods, allowing for combination bulk purchases. Bundling these goods together in bulk purchases enables Vuleka to obtain discounts, which are then passed on to the individual shop owners. The app is linked to a virtual wallet payment system, meaning that the payments are cashless.
Seebox is a self-paced educational tool that teaches electronic principles, problem solving and abstract thinking in the form of a game for children and students. The Seebox solution consists of an electronic hardware device, Windows and Android apps and educational content in the form of videos, experiments, maths modules, etc. Learners watch videos to learn the concepts of electronics, progressing through a game. Each level has practical experiments where Seebox measures the outcome. If successful, they can proceed to the next level. The aim is practical understanding, not just theoretical knowledge.
Excel@Uni provides student monitoring, academic support, and mentoring and professional development services to previously disadvantaged university students who are sponsored by company bursaries or scholarship foundations. Timu Trust is an online platform that helps unemployed people prove they are trustworthy so that they can trade their available time for skills or an income.
The Aqua Test Kit is a faecal contamination screening technique for drinking water. Aqua-Test is a simple, rapid and inexpensive screening test for faecal pollution in rural water supplies, rivers and streams without a need for a laboratory.
Disability Empowerment Awards
GreenABLE and Brownies & Downies were announced the joint first place winners of the Diability Empowerment Awards. Each won R 1 million.
GreenABLE is a non-profit company that trains people with disabilities to dismantle empty printer cartridges into their recyclable components for recycling. The company currently employs 34 people.
Brownies & Downies is a coffee shop and lunchroom which serves as a training centre for people with intellectual disabilities. Currently employing 36 people, Brownies & Downies provides on-site, work-while-training opportunities consisting of hard-skills, soft-skills and social-skills training.
The Rural Handbike for wheelchair users and Smergos were both awarded R400 000 in joint second place. Rural Handbikes are especially designed to easily assemble and disassemble. Smergos creates a range of wheelchair bags and other accessories that provide much needed functionality through a choice of simple, personalised designs.
In joint third place, with prize money of R150 000 each, were Finger Talk and Proxisee. Finger Talk is South Africa's first mobile app for learning South African Sign Language (SASL). Proxisee is a mobile app which aims to bring a sense of "sight" and navigation to blind or visually impaired persons by means of audible (sound) and touch sensitive (vibrations) signals.
"To date, 105 entrepreneurs have benefitted from the awards, which has resulted in 167% increase in jobs and a 245% increase in turn-over. We see these awards as the first step in what will be a long and fruitful relationship with these innovators and entrepreneurs. The intention of the Foundation is to see these valuable businesses through to commercialisation to the benefit of all South Africans," says Bridgit Evans, SAB Foundation Director.
"The submissions for this year's awards have been remarkable. It is our hope that they will go on to provide sustainable and scalable solutions for South Africa and beyond."