Last weekend saw the unexpected announcement of a new board for Eskom. In a statement released by the Presidency, Deputy President Cyril Ramaphosa said the new board was part of his intervention which he said will restore Eskom as an important contributor to the economy. The new board has been given instructions to appoint a permanent chief executive officer (CEO) and chief financial officer (CFO) within the next three months.
New Eskom chairperson Jabu Mabuza has been welcomed by a number of commentators, as has interim group chief executive Phakamani Hadebe. Mabuza has had a seat in many listed companies, including Telkom. His previous positions include serving as a Managing Director at Southern Sun's Gaming Investments, as well as group CEO and executive chairman of Tsogo Sun Holdings Limited.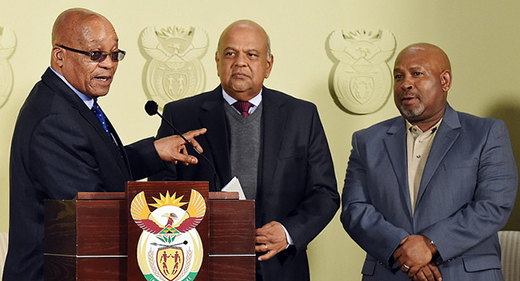 Business Leadership SA (BLSA) issued a statement welcoming the new board, saying it is evidence of government's commitment to transformation. "This is a clear display of commitment by government to the transformation of our state-owned corporations. We have always maintained that the reform and restoration of the independence' integrity' impartiality and objectivity of public institutions' including our SOCs' is a matter of absolute urgency and should be a priority'" the organisation said.
"We believe the composition of the board' bringing a mix of diverse but specialist skills in finance' governance' engineering' business and commercial is necessary to quickly restore stability to the operations and finances of Eskom and shows what is possible when there is political will. We thank all the many South Africans who have answered the call to serve their country through serving on the Eskom board."
Minister of Public Enterprises, Lynne Brown also issued a statement clarifying her position. "Fast-tracking the appointment of Eskom's new Board was necessitated by the company's precarious liquidity position and the previous Board's perceived prevarication in dealing with executives facing serious allegations of impropriety. When I strengthened the Board late last year, I retained the then Acting Chairperson, Zethembe Khoza – and three other Non-Executive Directors – on the grounds that continuity was important heading into the last quarter of the current financial year. Several senior figures from the business community had indicated their willingness to serve – but did not want to commit themselves on the eve of the ruling party's elective conference. Eskom's financial circumstances demanded immediate action. At the beginning of January I instructed my Department to urgently consult stakeholders, including the organised business community, to compile a shortlist of proposed new blood for the Board," she said.
"I am delighted that all proposed Board members accepted the request to serve, to put Eskom on the right path. The country has the highest expectation in the new Board to reposition Eskom, tighten its governance systems, and traverse a changing energy environment while placing Eskom on a sound financial footing. The Board has the full support of Government. A Special General Meeting will soon be scheduled."