Crown Publications, a business-to-business publisher with more than three decades of publishing experience, recently rewarded its top sales people for its financial year, which ended on 28 February.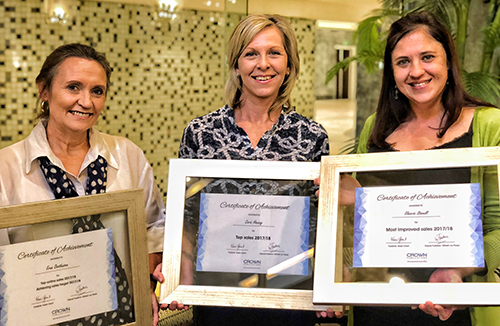 From left: Erna Oosthuizen, Carin Hannay and Elmarie Stonell.
During 2017, apart from the already volatile global economic climate, the industry was often negatively impacted by political decisions, especially in the industry that Crown Publications serves: mining, construction, capital equipment, mechanical and chemical engineering and electricity.
"Despite difficulties, good sales people always find ways around challenges – whether it is through innovative ways to get clients to advertise, finding new business or sheer tenacity," says publisher Karen Grant. "The editors of the various publications play a vital role here as they have to create the optimal vehicle for advertisers to get their messages across. Innovative ways have to be found to engage the existing target audience, and to provide new entrants into the industry with quality content in the format they prefer, whether print or digital," says Grant.
The top sales person was Carin Hannay, who is the advertising manager of Sparks Electrical News. It is a tabloid size publication that is distributed to some 7 000 electrical contractors.
Erna Oosthuizen, the advertising manager of Construction World was commended for achieving top online sales figures and for reaching her monthly targets on the title.
"We believe that the ratio between print and online advertising will settle at about 85/15. Business-to-business publishing, often technical in nature, does not always translate into online publishing perfectly and we find that clients still prefer print as vehicle to get their message across," says Grant.
The award for most improved sales went to Elmarie Stonell, the advertising manager on Capital Equipment News. The publication has seen unprecedented growth. "This is good news for the industry as a whole – the magazine serves the very industries that have been depressed for a few years and may therefore point to a turnaround," says Grant.