Oxygen is essential for healthy conditions in wastewater treatment plants, sewers, holding tanks, ponds, and lagoons. When oxygen is lacking, anaerobic conditions set in, allowing for the formation of hydrogen sulfide, ammonia, and other chemicals that release bad odours and are toxic to aquatic life. When oxygen is abundant, it is easier for microorganisms to biodegrade contaminants and remove excess nutrients, promoting cleaner ponds, more efficient wastewater treatment, and healthier aquatic species.
To encourage these beneficial aerobic conditions, Bionetix International has released a new biostimulation product called AeroBooster-O2. AeroBooster-O2 supplies ponds and wastewater with an oxygen source to promote aerobic conditions, reduce bad odours, and accelerate the digestion of contaminants.
The slow-release supply of oxygen provided by AeroBooster-O2 boosts the growth of biomass —microorganisms that speed up the biodegradation of contaminants and excess nutrients in ponds and wastewater. AeroBooster-O2 also fights bad odours by accelerating the oxidation of odourous substances such as hydrogen sulfide, ammonia, and other chemicals that form in anaerobic conditions.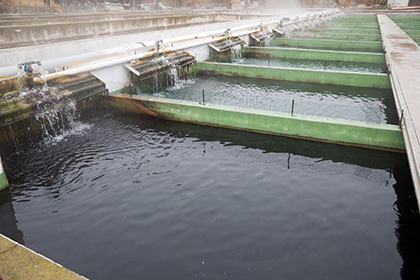 AeroBooster-O2 can be used to improve aerobic conditions in a variety of applications, including ponds, sewage, wastewater lagoons, wastewater treatment plants, holding tanks, and aquaculture. AeroBooster-O2 can promote better aerobic conditions on its own, but it is specifically intended to boost the performance of bioaugmentation products such as Bionetix's line of BCP natural wastewater treatments.
Each BCP bioaugmentation formulation is designed to target and degrade specific types of waste common in certain industries. For example, BCP55 has been designed for starch degradation, BCP11 for chemical waste, and BCP25 for dairy waste. Non-pathogenic bacteria in the BCP products release special enzymes that digest contaminants subsequently used by the bacteria for energy and reproduction. Carbon dioxide and water are released as non-hazardous byproducts.
By adding AeroBooster-O2, pond owners and wastewater facilities can encourage more efficient waste degradation processes, resulting in cleaner ponds, healthier biomass, and more efficient wastewater treatment plants. The product should be initially applied as a full shock dose and then continued at half-strength to ensure stability. For the quickest oxidising effect, AeroBooster-O2 should be applied directly to the pond or wastewater. Varying dosages can be applied to address high anoxic conditions or to reduce sludge.