The commission of inquiry appointed to probe Johannesburg's Grayston pedestrian bridge collapse has completed hearing oral evidence and now awaits the submission of closing arguments, the Department of Labour has said in a statement. The heads of argument are expected to be handed in by August 14.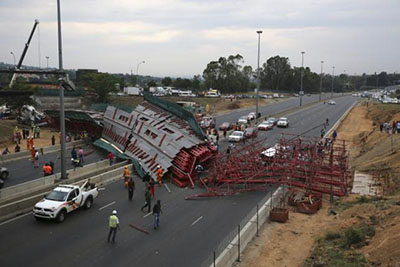 The inquiry, which was set up by the department to investigate the incident that took place on 14 October 2015, completed its work this week after gathering evidence on the collapse of the temporary work structure, spokesperson Teboho Thejane said. Two people were killed and 19 others were injured when the scaffolding around the temporary bridge caved in on the busy Johannesburg highway in 2015. The Labour Department set up the inquiry to probe contraventions of the Occupational Health and Safety Act and the exact circumstances which led to the collapse.
"The inquiry resumed on July 2 after nine months, completed its work ahead of the scheduled target. It had its first sitting in February 2016. When it resumed on July 2, the commission had set 27 September 2018 as the target date to complete its work," Thejane said.
The inquiry, chaired by Lennie Samuel, was marred by delays and postponements since its first sitting. Progress at the inquiry had been slow, causing public concern regarding accountability.
Stakeholders in the inquiry include the Johannesburg Municipality as the client, Johannesburg Development Agency (JDA) as the agent, Royal Haskoning DHV as the engineering company appointed by JDA as the engineering agent for the project, Murray & Roberts as the principal contractor appointed by JDA, Form-Scaff as the contractor appointed by Murray & Roberts, the people injured in the incident, the Engineering Council of South Africa, the National Union of Mineworkers (NUM) representing the employees of Murray & Roberts, and attorneys representing the Doodnath family who were injured in the incident and the late Mr Doodnath.
Witnesses who appeared before the inquiry included engineering experts, the employees of construction companies and environmental, health and safety officers.
Image Credit: REUTERS/SIPHIWE SIBEKO