South Africans are once again facing the threat of load shedding, with Eskom announcing that at least 10 power stations are running low on coal. Arnot, Hendrina and Tutuka power stations are among the ten that only have coal for between 10 to 21 more days. This goes againt the National Energy Regulator of South Africa (Nersa) stipulation that a stockpile of coal must have at least a 21 day supply to prevent possible blackouts.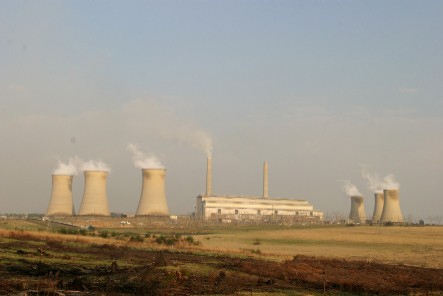 According to the utility, one of the reasons for the current situation is that one of its major coal suppliers, which is owned by the Gupta family, has cut off supply as it seeks protection from insolvency. The parastatal is hurrying to secure contracts with other companies that can supply it with enough coal.
Khulu Phasiwe, Eskom spokesperson, has said that the utility had informed Nersa that the new coal contracts would soon be signed to rebuild the coal stockpiles at the affected power stations. "We don't want to mislead people and create unnecessary panic. At the time, we also don't want to create a sense of comfort. All we can say is that the risk of load shedding is always there, but we're managing it," Phasiwe said at a media briefing.
"Management has done relatively well in trying to keep the system alive. But it is not an ideal situation, I have to confirm. Remember we're running a fleet of 15 coal-fired stations and out of the 15, 10 of them don't have enough coal. So, clearly, we're heading for deeper trouble."
Ted Blom, partner at the Energy Expert Coalition, has pointed out that he public has probably forgotten that the Coal Taskforce, of which he was a part in 2007, identified that Eskom would face a coal cliff by 2015. At the time, Eskom announced an immediate commitment to establish at minimum 40 new coal mines. However, not a single new Eskom-tied coal mine has been opened yet.
"The new Eskom board was appointed in January 2018 and one would have hoped that by now they would have identified how coal procurement has been captured," Blom said in a statement. "This is the sort of mess you can expect when inexperienced persons are appointed to the board of what is probably the most strategically complex company to manage in South Africa. Without experience in Eskom's past successful strategies prior to 2001, this consultancy has zero chance of coming up with a viable future business plan."
The utility has also announced that it will be delaying the release of its new strategy. This aims to assess if Eskom's current business model is sustainable, or whether tit should be broken up into separate entities. These entities would be responsible for power generation, distribution and transmission.
The strategy, which was due at the end of September, will now only be submitted to the board on 15 November. The document is expected to outline ways of addressing Eskom's declining electricity sales, shrinking cashflow and ballooning debt.
"Management, in consultation with the shareholders, have agreed that the development of a well thought-out and stress-tested strategy blueprint of this nature and magnitude merits the slight delay," Eskom said in a statement. The utility has hired Boston Consulting Group to help with the new strategy.
Image credit: http://www.eskom.co.za/OurCompany/PhotoGallery/Pages/Eskom_Power_Stations.aspx