Komatsu campus, a new industrial hub, has been launched by Trade and Industry Minister Rob Davies. The R985 million 300 000 m2 facility is one of the largest industrial campuses in the country and will serve as the central hub from which Komatsu will manage its operational footprint across the region.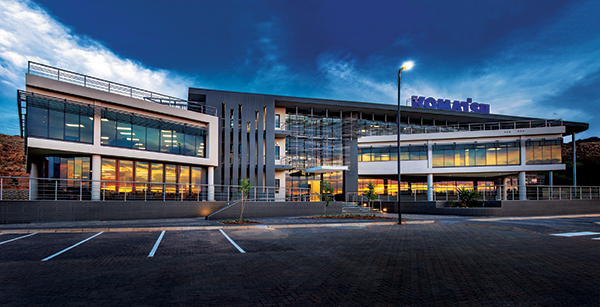 "With 2 500 employees in the Southern region, we are pleased that Komatsu is looking at the full value-chain of supply management, and this is evident in the announcement made by the company as it consolidates their operations, part distribution, equipment workshop, technical training centre and headquarters under one plant to retain the existing 953 jobs. This is a significant contribution towards addressing the challenge of unemployment and skills development," Davies said at the launch.
Komatsu campus includes the company's head office, Gauteng branch and training centre, as well as an equipment workshop and parts distribution centre. The parts distribution centre is 21 000 m2, 23% larger than the previous facility, and holds inventory of 40 000 line items valued at R885-million. According to the company, the facility distributes around 12 000 parts to more than 40 destinations every day.
Komatsu will add a technically advanced component remanufacturing facility to the industrial complex, with construction planned to begin in 2019 and set for completion in 2020. Komatsu Africa Holdings MD Mike Blom told attendees at the launch that the company expects to break ground as early as April next year.
Komatsu president and CEO Tetsuji Ohashi said Africa, and South Africa in particular, had become an integral part of the company's global business. "South Africa is not only the company's biggest market on the continent, but the base from which operations in nine separate countries across the region are driven. This investment comes as Komatsu prepares to work towards its centenary year in 2021 and the promotion of its mid-range management plan. What we are doing today is sowing the seeds for future growth," Ohashi said.