The Atlantis Special Economic Zone (SEZ) has officially been launched by President Cyril Ramaphosa. After years of planning, the 124.5 hectare development, which will focus on the establishment of a green technologies hub in the Western Cape, has an investment pipeline valued at R2.4-billion.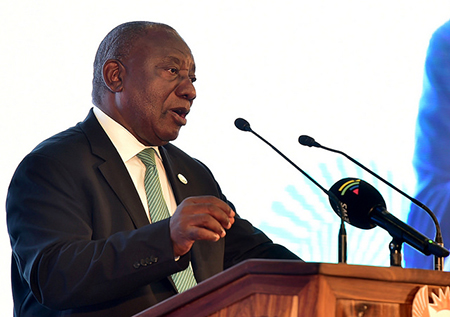 The Atlantis SEZ is designated for the manufacture of green technologies, alternative waste management, energy-efficient technology, alternative building material and many other clean technologies. The zone is projected to create more than 1 400 jobs in Atlantis in the short to medium term, with job multipliers estimated to rise to about 4500 for the West Coast region as a result of manufacturing initiatives.
An estimated R1.80-billion is expected to be invested in the Atlantis SEZ by 2022, with a total of 24 000 full-time equivalent jobs expected to be created in the SEZ's 20-year lifespan. At this early stage, Gestamp Renewable Industries has already invested R300-million and created about 220 jobs, and Resolux investment, Kaytech and Skyward Windows have invested R25-million, R130-million and R50-million each, respectively.
"The launch of the Atlantis SEZ is the culmination of an extensive process of consultation and technical evaluation. It is the product of close co-operation between different spheres of government working together towards the realisation of a common goal," President Ramaphosa said at the launch. The public consultation process involved stakeholders such as organised labour, business and the broader community.
The development follows the confirmed designation of the Atlantis SEZ status, which was approved by the cabinet on June 8. The cabinet set out two main conditions in giving approval for the designation of this SEZ: That the zone must have community and organised labour representatives on the entity's board, and that the local community and SMMEs must be prioritised in the SEZ's job creation and empowerment programme.
According to Western Cape Premier Helen Zille, the province offers major opportunities as a green investment destination, specifically for investors in energy services, utility scale solar and wind, waste, water, bioeconomy and resource efficiency. "We have identified the green economy, together with agri-processing and tourism, as key sectors under the Western Cape's economic strategy, Project Khulisa. It focuses on sectors that prioritise jobs for young people, has a significant jobs impact in rural areas and opportunities for people with entry-level skills," Zille says.
Image Credit: Flickr/GovernmentZA: https://www.flickr.com/photos/governmentza/44836629104