Delivering his presidential address for the year, Consulting Engineers South Africa's (CESA) Neresh Pather says that there is a strong focus within CESA on working with and supporting government, on increased collaboration with National Treasury on procurement, the Auditor General's office on compliance support, as well as partnering agreements with client bodies like SANRAL, Transnet and COGTA. This will allow CESA to contribute positively in terms of support that includes capacity building, skills development, compliance and good governance.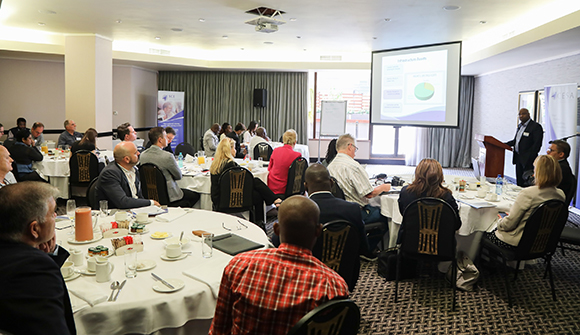 Themed "reshaping our future together", Pather's speech focused on delivery and action. He began his presentation by stating: "All South Africans can be mobilized to participate and actively reshape our economy, our country, our projects, our government and ultimately our lives. It starts with us!"
He added that we need active citizens taking account of our future without waiting for someone else to do this. "Implementation is key, and CESA will be focused on assisting clients to focus on delivery and action as opposed to just talking about it. Working together, industry bodies can assist in driving specific mandates, clients can focus on driving project management and delivery teams need to focus on driving execution," he said.
Pather said that during 2018, CESA was involved in detailed engagements to address the current challenges in the industry, as well as way forward. This included entering into dialogue with the Parliamentary Appropriations Committee and the Minister of Education, as well as ECSA, SABTACO, SAICE and BBCBE in a bid for broad industry collaboration.
According to Pather, there is a huge attrition of engineers either leaving the industry to join the advisory and banking sectors or alternatively emigrating to other parts of the world. This is largely due to the decreasing workload in engineering, which has been driven directly through economic decline.
"It we are not able to provide more opportunities for professional consultancies, there will be fewer engineers being employed and in turn lower growth and succession in this sector. This will ultimately lead to the closing down of companies and over time there will be an erosion of current skills, which is clearly shown by the ageing profile of our industry," he said.
Pather strongly believes that collectively the industry needs to address the issue of the importance of engineers as well as focus on creating the right narrative to be able to attract young engineers into the built environment and infrastructure space to make sure that sustainability and relevance is ensured. In addition, Pather notes that the latest industry statistics relating to transformation shows an alarming picture. Notwithstanding all of the efforts being made in promoting and encouraging greater numbers of black engineers to enter the industry, the numbers tell a different story, he said.
"The use of technology to speed up delivery and to properly satisfy demand will soon become a reality for all of us. We need to start future-proofing our teams and reinventing our service offering to embed technology going forward. All of these advances will be targeting faster design, more cost-effective solutions and more consistent delivery of infrastructure and construction projects from both a time and cost perspective, Pather said.