ElectroMechanica has partnered with Polytech Africa to establish the first Mechatronics Academy to be accredited by the Manufacturing, Engineering and Realted Services Sector Education and Training Authority (merSETA). The Mechatronics Academy will focus on the National Qualifications Framework (NQF) Level 2 learnership. This is based on essential aspects of precision mechanical engineering, electronics, and computer design systems used to control and automate mechanical products with electrical signals.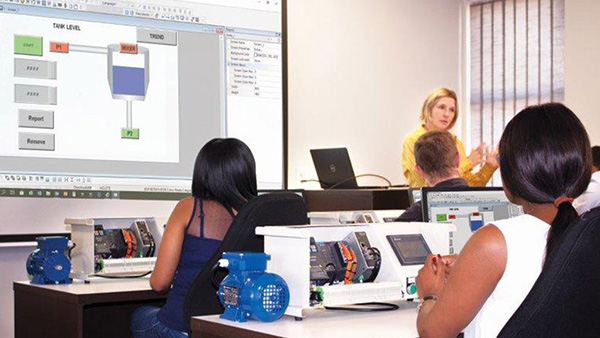 Upon completion of the NQF Level 2 qualification, certificate holders will be able to gain entry to highly-skilled sectors such as mechanical and electrical engineering, pneumatics and hydraulics, robotics, Programmable Logic Controllers (PLCs), Computer Numeric Control (CNC), Industrial Information Technology (IT), the automotive sector, as well as precision welding. The initial student intake includes two of ElectroMechanica's own employees.
According to Polytech Africa Founding Director Astrid Straussner, the Mechatronics Academy will play a vital role in addressing the skills shortage in the automation industry, particularly in Africa. "While we have a good skills base in South Africa, the main problem is the pipeline of younger people entering the field. We definitely need to enhance the existing skills and develop new ones. This is important to ensure that we are able to cope with the skills requirements of Industry 4.0 throughout the continent," she says.
With over 20 years' experience in the education and engineering fields, Straussner championed the establishment of the Academy, approaching ElectroMechanica for assistance. "Educational institutions cannot be islands on their own, and require the cooperation of both the government and the private sector. Here is where ElectroMechanica's active involvement is so crucial, as it is important that students are exposed to the latest products and developments, especially given the fact that Industry 4.0 and the Internet of Things are a reality in South Africa," she says.
"ElectroMechanica has in the recent past placed a much stronger focus on training and skills development of high-potential staff, in almost all aspects. Our customers and the industry will have access to employees who are workplace-ready through on-the-job skills development, with formal accreditation. The skills pool, in turn, will become deeper and more competitive – all of this while completing an important social responsibility to ensure the next generation is ready for the future," adds ElectroMechanica Director Andrew Nobbs.