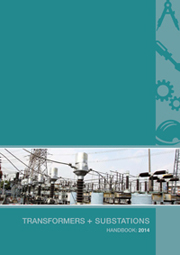 Pages: 88
Number of copies printed: 5 600

Once upon a time, the substation was 'the building over there', or the 'room in the basement'; and the transformer the 'thing with the tubes that hums'.

This has changed and 'Transformers + Substations Handbook: 2014' allows you to reacquaint yourself with one of the most important parts of any system, the substation and its content, and the transformer as the key device. This change relates as much to a utility, a building or a plant.

The change has been profound. The cynics amongst us may argue that the transformer is the device that drips oil all the time and the substation the building that had the explosion. This view is not far-fetched as the issue of maintenance has a specific poignancy in South Africa at the present time.
'Transformers + Substations Handbook: 2014' is a collection of targeted articles written by authors willing to share their knowledge. It combines some of the best thinking in terms of tutorial-type and experience-based material; it covers some of the latest thinking and it reviews important background theory.

This handbook comes at a critical time in the development of the South and southern African economies. It comes at a time when the supply of energy has without doubt impacted on the potential growth of the economy. This speaks to the need to plan carefully when developing strategic objectives - but it also speaks to a fundamental failing at a number of levels. Whereas this can be understood, it is a lesson that must be learned and remembered.
---

Contents

Forward:
by Ian Jandrell

Chapter 1:
Design and manufacture of transformers
Fundamentals of transformer design
By H du Preez, Consultant
Power transformers - design and manufacture
By S Mtetwa, Eskom
Proper transformer sizing and copper windings
By E Swanepoel, Copper Development Association Africa (CDAA)
Design and material selection of wind turbine generator transformers
By C Carelsen, M Hlatshwayo, J Haarhoff and G Stanford, Powertech Transformers
Buchholz relays in South Africa
By P De Matos, Allbro

Chapter 2:
Design and installation of a substation
Mobile substations - the sensible alternative
By W Jackson, Efficient Power
Very Fast Transient Overvoltages on power transformers
By G Semiano, WEG Equipamentos Eletricos SA
Innovative transformer protection relays
By R Billiet, NTSA
Lightning protection - where it matters most
By A Barwise, DEHN Protection South Africa
Transformer winding temperature determination
By JN Bérubé and J Aubin, Neoptix and W McDermid, Manitoba Hydro

Chapter 3:
Substation automation
Ethernet in utilities for critical communications networks
By T Craven, H3iSquared
Higher utilisation of power systems
By M Sanne, Siemens South Africa
Automatic voltage control of networks with embedded generation
By V Thornley, Siemens and N Hiscock, Fundamentals Limited

Chapter 4:
Maintenance
Transformer condition monitoring: making the electrical connection
By S Kuwar-Kanaye, Impact Energy
Transformer oil analysis - basic introduction
By N Robinson, WearCheck
Continuous humidity measurement in gas-insulated switchgear
By T Jung, WIKA
Arc-rated gloves and the new ASTM test method
By H Hoagland and Z Jooma, e-Hazard
Transformer oil management overview
By J De Bruto, Saftronics

Authors


Abbreviations

Advertisers