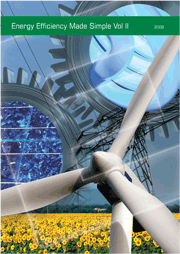 Pages: 252
Number of copies printed: 25 000

Launched in June 2009, this reader-friendly yet definitive handbook on energy efficiency addresses the various technologies available, provides workable solutions for the current energy crisis and suggests sustainable solutions for the future.

More than 50 authors, all specialists in their various fields have shared their knowledge and expertise to guide and educate industrial, commercial and residential markets on the concept of saving electrical energy – and to raise levels of awareness regarding cost-effective savings potentials.
The handbook's content focuses on the planners and providers who ultimately plan and commission energy systems in order to harness available energy – while remaining cognisant of the environment – thereby contributing to their own company's bottom line and, more importantly, assisting with the efficient supply and distribution of energy in South Africa.
At the same time, the reader-friendly content makes the handbook a valuable reference work and provides understandable information on energy efficiency for those tasked with determining baselines for implementing energy efficiency strategies in the workplace.
---
Contents
1:Background to energy efficiency in South Africa
A background to major power usage areas, Dieter Krueger New generation capacity status in South Africa, Vic Lawrence Alternative energy options for power generation, Thembakazi Mali Global versus local responses to energy efficiency, Valerie Geen Energy efficiency and the Clean Development Mechanism, Geoff Stiles
2: Efficient use of available energy
Demand Side Management in South Africa, Rob Stephen Using time of use (TOU) tariffs effectively in industrial, commercial and residential applications, J Terry Cousins Cogeneration, Akash Prakash Monitoring, measuring and verifying energy savings, Willem den Heijer Energy efficiency in municipalities, George Ferreira
3: Self assessment tool and action plan
Self assessment tool to determine baseline for implementing energy efficiency, Andrew Hibberd Energy savings options and applications, Koot Naude Implementing action plans in corporate and home environments, Ken Cram Ensuring the correct staff structure to sustain energy efficiency investments, Flip Snyman
4: The migration to gas
The natural gas industry in South Africa: Availability, sustainability and reliability of gas supply, Michael de Pontos, Michael Ellman and Karen Germuishuys
5: Renewable energy sources
Solar water heating, Cedric Worthmann Wind energy: Anchoring the future supply mix, Jason Schäffler Fuel cells, Titus Mathe Bio-energy, Karolina van Hulst Hydro energy, Sibusiso Ngubane Geothermal engineering in the Southern African region, George Rouse Wave energy, James Joubert
6: Energy efficiency in buildings
Energy efficiency in new buildings, LK Reynolds Green buildings and SANS 204, Mike Barker Green building rating tools, J Terry Cousins Renovation investments for energy efficiency in buildings Commercial, Jeremy Gibberd Industrial, Alan Palmer Residential, Nonhlanhla Ngwenya Eskom's internal energy efficiency programme, Rochelle Chetty Design guidelines towards energy efficient lighting installations, Brian Rowell Efficient design of air conditioning systems in office buildings, Patrick Kohler Building energy management systems, Paul Mollentze Glass insulation, Hans Schefferlie Thermal insulation, TIASA
7: Process optimisation
The aluminium foundry industry – energy conservation imperatives, Tony Paterson HVAC, air handling systems, chillers, heaters and coolers, Kobus Joubert Compressed air leakages in plants, Mario Kuisis Motors and variable speed drives, Eric Mertens Pumps and fans, LJ Grobler Measuring instrumentation in a plant: Selection and installation, Chris Gimson
8: Standby and backup systems
Diesel generators, Rod Warnes Static UPSs, Graham Beyleveld Intelligent shutdown and changeover, Graham Beyleveld
9: Load shedding survival guide
Residential, Andrew Etzinger Industrial, Martin de Lange
10: Skills development in energy efficiency
National standards for the assessment of competence of energy practitioners in South Africa, Hanlie van Schalkwyk
11: Standards and legislation
Applicable international and local standards, and appliance labelling in South Africa, Willa Breed and Adolf Claassen Responsible handling of spent mercury bearing lamps and batteries, Mari-Louise van der Walt
12: Tools for energy management
Tools for energy management, Willie Cronje