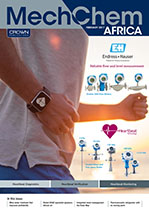 On the cover: Metering with Heartbeat: rethinking instrument health:
The February 2017 issue of MechChem Africa, features Endress+Hauser on the front cover. We talk to product managers Jan Gerritsen and Frans van den Berg about Heartbeat™ Technology and its role in keeping flow and level meters healthy. Read more …
For more information contact
Endress+Hauser
5 Commerce Crescent West, Eastgate, Sandton
+27 11 262 8000
+27 86 363 7370
Comment: Asset management and the state of our nation
Responding to Jacob Zuma's 2017 State of the Nation address, Peter Middleton reflects on South Africa's political maturity and compares it to the maturity analysis and asset management processes suggested by Pragma on its Asset Management Road Map. Read more…
SAIChE News
Apps to make an engineer's life easier Click to read in the online magazine

Plant maintenance, lubrication and filtration
Integrated asset management: the Road Map
MechChem Africa's Peter Middleton talks to Karl Nepgen about optimising plant ownership and operations by following the Pragma way, a multi-level approach to implementing physical asset management solutions. Read more...

Reliability-focused maintenance as a profit centre Read more...

Synchronous condenser reassembly and recommissioning Click to read in the online magazine

Mario on maintenance: The engineer's nemesis Read more...
Continuous electronic traceability thanks to valves with RFID Click to read in the online magazine

Materials handling
PVC modifers re-packaged: a case study
This case study describes an efficient, dust-free system for re-packaging PVC modifiers, designed and installed by bulk materials handling specialist, Flexicon. Read more...

Local wedgewire manufacturer receives a boost Click to read in the onine magazine

Reducing maintenance on chute systems is simple Click to read in the online magazine
Local crane company puts rivals to flight Click to read in the online maazine

Corrosion control and coatings
KPAL acquires Sadolin Paints
MechChem Africa reports on Kansai Plascon Africa's acquisition of Sadolin Paints and presents some of the companies industrial offerings. Click to read in the online magazine

BASF to offer tailor-made product innovations Click to read in the online publication

Heating, cooling, ventilation and air conditioning
Global HVAC specialist sponsors African art
MechChem Africa talks to HVAC specialist Jaco Smal of AHI Carrier about the Silo district's novel HVAC solution and Carrier's R600 000 sponsorship for the Zeitz MOCAA. Read more...

Ozone depleting gas smugglers face clampdown Click to read in the online magazine

Global and local fan specialists merge to offer full ventilattion product range Click to read in the online magazine

New approaches to extend the life of HVAC equipment Click to read in the online magazine

Water and wastewater processing
Mine water treatment that improves profitability

Peter Middleton talks to Multotec's Carien van der Walt, who believes that her company's continuous ionic filtration (CIF®) process could change the mining sector's outlook on wastewater treatment. Read more...

Product and industry news:
Tracking Industrial trends: Blurring the lines and the new renaissance Read more..

Innovative engineering
Thermoacoustic refrigerator with no moving parts
This article, from Tokai University's Shinya Hasegawa and colleagues, describes a multistage travelling-wave, thermoacoustic engine capable of powering a refrigerator from waste heat at temperatures lower than 300 °C. Read more...

Back page: Click to read in the online magazine