Details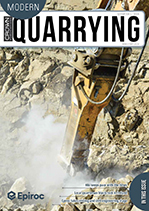 Modern Quarrying's Q1 / 2018 issue is in print. To see what this issue contains, simply click on the headline and you'll be directed to the full article.
Epiroc takes mining and civil engineering stage
To enable further growth, Atlas Copco has emerged into two separate groups of companies, Atlas Copco and Epiroc. Globally, the entire Mining & Rock Excavation Technique Business Area together with the Hydraulic Attachment Tools Division of Atlas Copco has become part of Epiroc, while the industrial segment remains with Atlas Copco. Building on 144 years of history, Epiroc's roots are in Atlas Copco, a company known for sustainability, innovation, high ethical standards and quality products and service.