In this article, executive director of the SAIW, Sean Blake talks about fabrication in South Africa compared to other countries of the world and makes some suggestions as to how we can do better.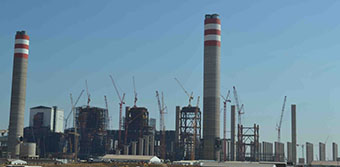 South Africa has the potential to be a world class fabricator of all steel products, but we "are not yet paying sufficient attention to skills development and state-of-the- art quality management," Blake begins. "The rest of the world has moved ahead of us in these respects," he adds.

Generally speaking, Blake believes that South African fabricators have always been able to do a reasonable job. "But what we are doing today is often based on what we used to do in the past. Modern industrialised countries have moved on. They are now using modern technologies, not only to automate welding, but also to monitor and control welding processes – in real time," he points out.
Recently returned from the 68th IIW Congress and International Conference in Helsinki, Finland, Blake says that Finland has embraced modern-technology solutions across its industries. This contributes significantly towards making Finish industries – such as Metso, Outotec, Outokumpu, Kone, Cargotec and many more – globally competitive and successful. Notably in the welding industry, he lifts out Pema Welding Automation/Pemamek and Kemppi as world-leading adopters of modern technologies for welding. Pema automatic welding systems were installed by several South Africa-based fabricators for producing membrane wall panels for the Medupi and Kusile boilers.
"In a presentation by Kemppi, the presenter advocated moving the welding industry from '3D', dirty, dull and dangerous, to '3C', cool, clean and clever. This involved utilising digital technologies to improve weld quality and monitoring. In addition this would also aid in attracting the young generation to the industry," Blake recalls.
On the fabrication side, Finland has a very successful specialist ship building industry. Arctech Helsinki Shipyard, for example, builds icebreakers and other Arctic offshore and special vessels and is a forerunner in developing and applying technological innovations. About 60% of icebreakers that operate today were built in Finland.
"Modern overseas fabricators apply detailed quality management and they use technology to monitor and control the quality of fabrications in real time throughout the process. They also maintain high levels of traceability and identification, not only of product components, but of the personnel involved, the equipment and the consumables used, along with records of the monitored parameters applied during welding," Blake reveals.
While many South African companies have implemented systems such as ISO 3834 to manage weld quality and traceability, they haven't fully embraced modern technology systems in the ways we are seeing overseas, where communication technologies on the shop floor, real time monitoring and systems analysis are routinely applied to ongoing work," he says.
Step changing skills levels
Another step change needs to be made at the grass roots welder level, Blake argues. "We need a much stronger focus on improving skills. We know this is a problem because we have so few local welders that are able to produce the high-quality welds at the top end of the spectrum; the critical welds for powers stations, for example. Locally trained welders are typically assigned to non- critical welding tasks, while many of the more difficult and more critical welds are having to be done using imported skills," he tells African Fusion.
"As a whole country, our fabricators, government and training institutions need to put a lot more effort into up skilling local people to this higher level, so we can complete all fabrication tasks using skilled South Africans and even export these skills. The SAIW has long suggested that we follow the IIW International Welder programme in this regard. This course and qualification has proved successful the world over, and we believe it is the common factor for successfully developing higher level skills," Blake suggests.
The IIW Welder course involves a much wider variety of differently configured training and test pieces, so it is a better match for the situations welders have to deal with in the field. "Most welder training in South Africa is based on standard test pieces set up in simple configurations with little analysis of the overall quality of the weld. Therefore our welders tend to struggle when a weld needs to be analysed for code compliance, for example by radiographic analysis, to ensure adequate quality. This is even more difficult to attain when the weld is difficult to access or has to be performed in complicated positions.
"Welding fabricators tell us that when testing local welders, they seldom get a pass rate higher than 10%, while imported welders will almost all pass the same test. Clearly, this suggests that the quality of welder training in South Africa needs to be addressed," he asserts.
Blake's vision is for the widespread adoption and rollout of the IIW International Welder programme to all welder training schools, following which, schools need to be accredited as Authorised Training Bodies (ATB's) in the IIW scheme. "This is an imperative for any training school that is developing skills for the power generation, petrochemical and railway industries or for any other safety critical welding applications," Blake advises.
In addition, he would like to see more welders trained in the use of modern welding technologies. "Welders need to be trained to embrace technology and welding automaton. Productivity in South Africa is, unfortunately, relatively poor and advanced technologies can have a significantly positive impact on quality and productivity. In addition, the younger generation has grown up in this digital age, with smartphones, tablets and computers. The use of technology is not new to them and it may, in fact, make welding a more attractive career choice," he adds.
Fabrication for a vibrant economy
South Africa has a large workforce, which is necessary when implementing large projects such as Medupi and Kusile. For these two projects, however, most local fabricators have now delivered on their allocated contract work and many are relatively idle right now. "This is having a serious impact on employment and the entire steel industry is struggling at present," notes Blake.
"I am a firm believer that we should immediately invest in more coal-fired power capacity. The key reason is that many of our power plants are using old technology, which is much less efficient, and they are also nearing (or beyond) their end of life. Replacing these power plants with newer, more efficient coal technologies would be a positive step towards reducing the carbon footprint of the country, because of the significantly better efficiency that new super-critical power stations produce," argues Blake, "Emissions will also be improved because much more effective emission control technologies can be installed," he adds.
"Our fabrication industry developed considerable amounts of experience through the Medupi and Kusile project work, so I am sure it will be able to build Coal 3 and Coal 4 power stations far more effectively now. All of the design changes and manufacturing challenges are resolved, so repeat projects would progress far faster and more cost effectively than either Medupi or Kusile," he predicts.
"We know that the period between 2008 and 2014 was a very vibrant one for South Africa's fabrication industry. The two power station projects, along with the World Cup stadium construction projects, had an enormously positive effect on the economy as a whole, shielding us from the worst effects of the global economic downturn," Blake reminds African Fusion.
"Projects such as these have a huge multiplying effect on downstream and upstream industries, creating jobs in mining and steel making; engineering, manufacturing, fabrication and construction; and all the way through to logistics, financing and management. And we are now in a better position than we were to localise the construction of additional coal-fired plants," he says.
Could a nuclear new-build programme have the same affect? "Nuclear needs to be part of our future but we really need more time, training and up skilling before we attempt to build a nuclear power infrastructure for our- selves," Blake responds. "In the short term, the only sensible nuclear plant procurement strategy is to appoint a foreign contractor to build own and operate. We will, almost certainly, have to import many of the skills and high-end components. Very little benefit in term of jobs and economic growth is likely to accrue to South Africa.
Citing some positive developments for the local fabrication industry, Blake says that several rail projects are underway "progressing slower than the economy needs" but accelerating. "And the renewable generation projects are starting to have a positive impact.
"South Africans have always been able to change adversity into opportunity. I am confident that, by adopting modern best-practices with respect to fabrication and welder training, we will pull though these difficult times and emerge as a top-tier fabrication destination," Blake concludes.