African Fusion talks to ESAB's regional product support team: Keith Saunders, who is responsible for standard equipment, automation and engineering; Brett Cameron, process specialist responsible for welding consumables and manual plasma systems; and Eugene van Dyk for mechanised CNC Cutting Systems, manual gas equipment, PPE and accessories.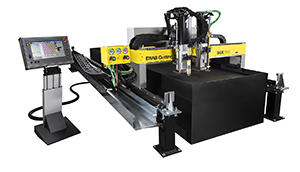 Last year, ESAB began channelling the distribution of its welding range in South Africa through Colfax sister company, Howden Donkin. "To further simplify the regional support functions for the SADC region, ESAB has done away with country managers and decided to support its welding product range directly using its three product managers, with additional assistance from Dubai," begins Saunders.
"Between Brett, Eugene and I, who are all directly employed by ESAB Middle East and Africa, we will continue to support the regional market, which is predominantly in South Africa. For all ESAB distributors and direct customers, we will be responsible for product marketing and service support," he explains.
"We report to and are supported by ESAB Middle East, with Howden Donkin continuing to house us and to facilitate the warehousing and distribution side," he says adding, "so nothing has changed with respect to ESAB products being available for distribution and support across South Africa and into neighbouring southern African countries," Saunders assures.
The consumables specialist
Process specialist, Brett Cameron, continues: "Regionally, we remain very strong in submerges-arc welding, with the likes of our ESAB OK Autrod 12.22 wire with our OK10.72 flux being widely adopted.
"Our strength in submerged-arc welding has led to us dominating the wind tower manufacturing market in South Africa and, although tower manufacturing has been stalled recently due to delays in signing off the new REIPPPP projects, we are seeing a significant pick up in the Western Cape,"
One of ESAB's bestselling welding consumable is the ESAB OK 55.00 manual stick-welding electrode. This is a premium, high-quality, low hydrogen and low moisture absorption (LMA) electrode, particularly suitable for welding high strength low-alloy steels. It offers good low-temperature impact strength and is very resistant to hot cracking.
"On the GMAW process our OK Aristo Rod 12.50 is a flagship consumable. This is a copper-free Mn-Si-alloyed solid wire for general construction, automotive components, pressure vessel fabrication and shipbuilding," Cameron says.
This wire incorporates ESAB's Advanced Surface Characteristics (ASC) technology, which enhances feeding performance, reduces spatter levels and increases efficiency, making it ideal for robotic and mechanised welding. "OK Aristo Rod 12.50 wire is routinely used on robot systems such as those at Transnet in Bloemfontein, which uses the 250 kg ESAB Marathon Pac™ to reduce handling costs," he adds.
"We now also offer a Tier 2 consumable range for those needing to squeeze costs," he continues. "These products, although less expensive, are all manufactured in ESAB factories to comply with all applicable welding consumable standards," he assures. Most notably, Cameron lifts out the ESAB WELD 70S-6 GMAW wire and the ESAB WELD 6013 general purpose rutile electrode as: "high-end Tier 2 consumables that are cost effective without sacrificing quality and performance".
ESAB is in the process of releasing a newly developed flux-cored wire, which will meet the high-level specification required for the doorframes of wind towers. "Our R&D facility is currently finalising the approvals for the consumable and we expect it to be made available soon," Cameron says.
Standard welding and automation equipment
Keith Saunders looks after the standard welding equipment and machines; ESAB's automation systems – column and boom systems, rotators and manipulators – along with custom engineered solutions such as its pull-through beam and profile welding systems.