Based on an assessment carried out on December 1, 2016, HC Heat Exchangers' workshop in Elandsfontein, Gauteng, was certified under the IIW Manufacturer Certification Scheme for the management of quality in welding in accordance with ISO 3834 Part 2 – Comprehensive Quality Requirements. African Fusion talks to Hans Banza, the company's responsible welding coordinator.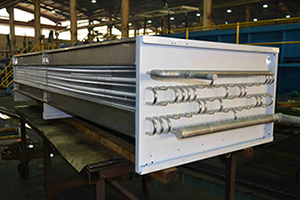 HC Heat-Exchangers (HCHE) is a design and manufacturing company specialising in the manufacture of heating, ventilation, air conditioning and refrigeration equipment. Started in the 1970s as the Heating Centre group, the company traded under the German Günter SA banner from 1995 until Günter's withdrawal from South Africa in 2001, after which HC Heat-Exchangers was established as an entirely South African-owned company.
Today, HCHE is the largest manufacturer of finned-tube heat exchangers in southern Africa, serving both the commercial and industrial market segments. The equipment range produced comprises commercial refrigeration products through to large custom-built units for industrial applications.
"We produce condensers, evaporators – both flooded and direct expansion –chilled water coils, hot water coils, steam coils and dry coolers. We offer a variety of different construction materials to suit all operating environments including all-stainless coils designed and manufactured to SANS 347 and ASME B31-5 specifications and welded according to ISO 3834 Part 2 quality requirements," Banza tells African Fusion.