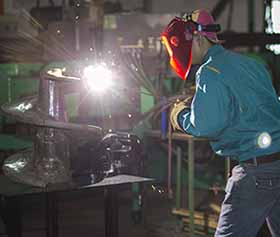 Locally, WASA produces tubular consumables and flux-cored welding wires and is the only tubular wire consumable producer in Africa. "We manufacture 60 to 70 t of product per month, of which 50% is used by one of our own Group companies, Apex Benoni, where we refurbish crushing components and produce CrC overlay plates for wear applications on southern African mines," he adds.
Briefly summarising the history of tubular electrode development, Zylstra says that the first patent for an arc welding process using a metal electrode was awarded in 1892 to CL Coffin of Detroit. A few years later, in the 1900s, Oscar Kjellberg of Sweden invented the covered or coated electrode by dipping bare iron wire into a thick mixture of carbonate and silicate deoxidants. This paved the way for modern covered electrode development.
The evolution of tubular electrodes began some 60 years later with the emergence of flux-cored and Innershield welding wires. Welding Alloys was founded near Cambridge in the UK in 1966 and began manufacturing cored hardfacing wires a few years later. "Then, in 2010, as part of Welding Alloys' Green Electrode project, the company acquired tubular hardfacing electrode manufacturing technology from a Malaysian company and, in 2014, began manufacturing a successful range of formulations of its own," Zylstra reveals.
WA tubular hardfacing electrodes (TEs), while designed to be used in the same way and with the same power sources as coated shielded metal arc electrodes, are constructed like a cored wire electrode. The alloying constituents, which are mostly metal powders rather than flux, are contained inside the hollow electrode by an outer metal sheath.
Why? The main advantage of using a cored electrode is the smaller cross sectional area of the conducting path. "If you think of a cored wire, it has a thin metal sheath that needs to be melted by the welding current, instead of the relatively thick solid wire," Zylstra explains. "To melt the thinner section, a lower total current is required to achieve the necessary current density. The cored construction, therefore, offers lower heat input and higher deposition rates compared to solid wire electrodes with flux coatings on the outside," he says.
WA's tubular hardfacing electrodes, which range in diameter from 6.0 mm in diameter to 12 mm, offer extra-low heat input; low dilution and base metal penetration; and smaller heat-affected zones than any solid electrode equivalents. "Low dilution is very important when it comes to hardfacing. The more the dilution, the more the alloying elements such as chromium, niobium or vanadium become diluted by the base metal, reducing the wear properties of the hardfacing layer. We usually advise depositing three full hardfacing layers to guarantee the chemistry and properties of the deposit are fully achieved, but high alloy content in first layer can allow acceptable properties to be achieved using only two layers," Zylstra advises.
A further advantage of the low heat input associated with the tubular electrode construction is reduced distortion and lowering of the risk of burn-through. "These tubular electrodes can be welded at low operating currents, which allows less expensive power sources to be used and, most importantly, it allows thin sections such as the flights of screw conveyors to be hardfaced successfully without destroying the basic geometry," he suggests, adding that because of the spiral shape of conveyor screws, these products are not so easy to hardface using more automated processes.
While WA's 6.0 mm tubular electrodes have a steel stub, the larger diameters use an aluminium stub, which enables the stub diameter to be retained at 6.0 mm, regardless of the electrode size. This makes the entire range compatibility with typical MMA electrode holders.
The electrodes are highly alloyed and densely packed, with a thin steel sheath, which requires low amperage to melt and sustain an arc. "A key differentiating feature for us is the green outer coating, which is designed to offer exceptional moisture resistance," Zylstra believes. "This means that baking is no longer required as the core ingredients are not susceptible to moisture pickup at all. This saves energy, processing time and, therefore, money. It also makes the electrodes ideal for use in humid, outdoor environments," he adds.
Describing the feel while welding, Zylstra says tubular electrodes are "feather-light", which takes some getting used to, but the "weldability is excellent". Spatter is almost non-existent and, because the core is mostly made up of metal powders rather than flux, slag levels in the deposit are low, requiring no slag removal of grinding between layers.
Offering a 50% higher deposition rate that coated SMAW hardfacing electrodes, Zylstra points out that a further niche advantage is the positional capability of tubular electrodes. "Because the electrodes can be welded at currents as low as 80 A (6.0 mm), our tubular consumables can be used to hardface in the vertical-up position (3G/3F)," he assures. "This makes the range very versatile, with the down hand welding being possible at 120-130 A for the 6.0 mm electrode and as low as 150-160 amps and 200-220 A for the 8.0 and 12 mm electrodes, respectively.
The product range
At the starting point of Welding Alloy's tubular electrode (TE) hardfacing range are the primary chromium carbide coatings (HC-TE and HC40-TE). These electrodes produce a microstructure of chromium carbides in an austenitic matrix. "These are high chromium cast irons and will produce stress relief cracks. This is normal," Zylstra suggests. "If no cracks are produced, then something is wrong with the hardfacing composition," he points out.
Typical uses include palm oil extruders, screw conveyors, gyratory crusher cones and mantles, dredge pump bodies, mining and earth moving equipment, agricultural equipment, wear plates, sugar mill crusher hammers, drag line components, quarry and sand handling equipment, and brick manufacturing equipment.
One step up in terms of metallurgical sophistication are the CN-TE and the CNV-TE electrodes that are used to deposit complex chromium carbide layers that offer better wear resistance at higher temperatures. The CNV-TE alloy, for example, maintains its abrasion resistance at up to 600°C and is suitable for use in boilers, sinter plant or for blast furnaces components.
A third alloy group, STEELCARBW25-TE and STEELCARBW45-TE produce layers of tungsten carbide (WC) and Fe-Cr-W carbides in an austenitic matrix. "Many will have seen tungsten carbide particles being dropped into a melted pool to produce layers such as these," Zylstra recalls. "But the powders used in these tubular electrodes are so fine that they can't be seen."
Both these grades have very high abrasive resistance, with the W25 grade having slightly better impact resistance than the harder W45 grade. Typical application include materials handling components in contact with medium to fine ores, coal crusher blades, conveyor screens, concrete mixer components, wood chipping or crushing machine components, and brick and clay mill augers.
Concluding, Zylstra says that tubular hardfacing electrodes are ideal for use on irregular shapes where out of position welding is sometimes required, for low volume applications or for applying surface coatings on many small parts. "They are typically suited to repairs of worn coatings and for use whenever the advantage of continuous welding with cored wires cannot be achieved," he suggests.