Industrial equipment group, Goscor, has been acquired by Industrial Services Holdings (InServe). Goscor represents leading equipment brands across several sectors. These include Crown, Doosan, Bendi, Hubtex & Taylor Dunn (forklifts and materials handling equipment); Bobcat (construction); Sany (earthmoving); Tennant, Elgin, Maer, Delfin & HighPoint (industrial cleaning); Subaru (industrial power solutions); Genie (aerial lift equipment); Sullair (compressed air solutions) and many more.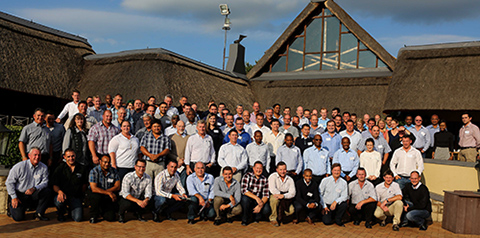 Neil Wilson, Goscor CEO says he is very optimistic about the deal. "The diverse synergies that exist between the companies in InServe will create greater efficiencies and ultimately help each company to improve their bottom lines," he says.
He adds that some of those synergies include the cross-pollination of common customers, the sharing of infrastructure in more remote areas and business strategy sharing especially in the areas of sales, marketing and logistics.
"Perhaps most importantly being part of a powerful group makes it much easier to raise the capital required for future growth. This is especially relevant to InServe as the group has a voracious appetite for building and growing in the southern African context," says Wilson.
InServe CEO, Peter Amm says that Goscor is a superb addition to the group. "This is a powerful and dynamic group, which boasts many of the world's leading brands in their respective sectors. They have a proven profit track record and a reputation for excellent technical and customer service. Also, Goscor has always shared - and practiced - with InServe its values of honesty, integrity, teamwork and respect for people," says Amm.
"I have no doubt that Goscor's contribution to the growth of InServe will be immeasurable over time and I look forward to working with Neil and his team," he says.
Amm adds that Goscor has been particularly strong in developing its rental business and that InServe intends to use its and the other group companies' expertise to maximise the strong opportunities that this business model offers.
Apart from Goscor, InServe, which now employs 3 400 people in its numerous branches throughout southern Africa, comprises Concord Cranes (fleet includes hydraulic mobile cranes, truck cranes and all terrain cranes with under-hook height capabilities of up to 145 m); Prowalco (manufacturer and distributor of pumps and dispensers); Uni-Span (one of SA's biggest producers of formwork and scaffolding) and Afrit, an associate partner through Investec Equity Partners (trailer manufacturers, rental solutions and second-hand truck and trailer solutions).