Terex Cranes has treated its Demag AC 500-8 all-terrain crane to an upgrade that has greatly enhanced the machine's technical characteristics.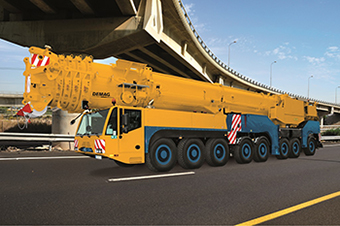 A technical highlight is the unit's new and innovative IC-1 Plus control system. The IC-1 Plus control system is designed to provide the crane's maximum allowable lifting capacity, based on the slewing angle, for every crane configuration. The new control system no longer limits the maximum lifting capacity to a pre-calculated, 360° load chart which was based on the most unstable position of the crane.
Instantaneous capacity calculations allow customers to take full advantage of the maximum lifting capacity available at any given slewing position for any crane configuration. This advantage is particularly useful when working with reduced outrigger settings and reduced counterweight. In fact, it enables the Demag AC 500-8 to perform jobs where higher capacity cranes are typically needed. This comes with an added benefit: for many applications, the IC-1 Plus control system not only uses the full potential of the crane's lifting capacity, but also creates the opportunity to use less counterweight as compared to the 360° lifting capacities. This results in reduced transport costs.
The AC 500-8 also continues to impress with its established advantages. With a carrier length of only 17,1 m, it is said to be still the most compact eight-axle machine in its class that can achieve a maximum system length of 145,8 m with a luffing fly jib. The crane offers enormous power across the full lifting capacity range, through features such as the improved design of the main boom cross-section and the reinforced sideways superlift.
The star shaped outrigger design provides the required strength for minimal carrier deflection during maximum capacity lifts.