Chicago Pneumatic has introduced its new series of electrically-powered light towers. Available in both metal and LED versions, CPLB2 light towers are designed with a choice of high-quality bulbs to enhance visibility, wheels for optimal ease of movement and a robust canopy. They simply plug into a power source, such as an outlet or generator, for instant, reliable site lighting.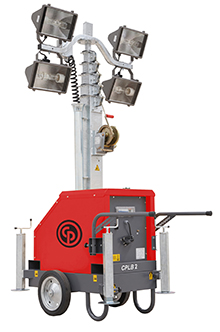 The CPLB2 LED is the fourth LED light tower in the Chicago Pneumatic portfolio. Together with three other models: the CPLT V15 LED, CPLB6 LED and CPLT H6, LED is said to provide users the widest choice when it comes to sourcing the safest and most efficient light tower for multiple applications and industries.
The CPLB2 LED light tower is ideal for construction, mining and events, to name just a few industries. Featuring heavy duty build up and high protection index (IP 67), its four high-efficiency LED lamps give an average coverage of 3 000 m² with a diameter of 61 m, allowing 10luxes. The 7 m long mast requires height to achieve maximum light coverage, the light tower's manual lifting system is ideal for this.
"The newest addition to Chicago Pneumatic's portfolio of light towers offers improved luminosity and transportability, both essential for operators working in the dark hours. We have a firm commitment to offer our customers choice when it comes to light towers, ensuring efficiency for multiple applications," says Ignacio Picatoste, spokesperson for light towers at Chicago Pneumatic.
Easy service and transportability have also been factored into the design of the new light tower. Its compact frame allows up to 32 units to be transported on a single truck and offers simple access points for maintenance work.
Up to four CPLB2 LED light towers can be connected together and powered by one of Chicago Pneumatic's newly launched single portable inverters.