After five years of successfully growing its market in Botswana, mineral processing solutions provider Multotec will now be relaunching as a fully-fledged subsidiary – locally registered and rooted in Botswana.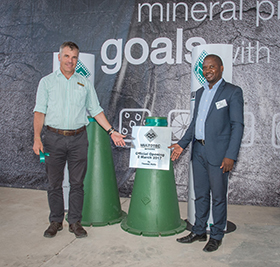 "With our head office in Letlhakane and additional site offices at Jwaneng, Orapa and Letlhalane diamond mines, Multotec's success in this region has been built on staying close to our customers," says Kris Vergote, general manager for Multotec Botswana. "We are now also an active part of the local community and have created employment for 148 local residents."
With 23 years of industry experience, Vergote is supported by metallurgist Kennedy Maputla in his role of sales and contracts manager, while Allen Roussouw, the company's field services manager, adds his 20 years of operational plant experience to the capacity of the management team.
According to Multotec Africa managing director Jaco du Toit, the company's proximity to customers allows high levels of technical and maintenance backup. The Botswana premises include 1 350 m², with 350 of those under cover, dedicated to stockholding, effectively reducing lead times and ensuring that a customer is never kept waiting for parts.
"Our personnel are at customers' sites daily, so there is always strong technical expertise on the ground," says Du Toit. "While the metallurgists and plant experts in the Letlhakane office manage our maintenance contracts, they are, in turn, supported by product specialists in the Johannesburg head office, who visit sites as and when required."