Caterpillar has launched its new "D2" Series models – the M315D2 and M317D2 – building on the reputation of the predecessor models, the M315 and M317 wheeled excavators said to have earned a solid reputation worldwide for reliable performance, long-term durability, versatility, fuel efficiency, low operating costs and easy maintenance.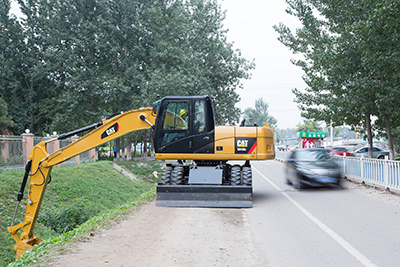 The new Cat C4.4 ACERT engine meets China Nonroad Stage III emission standards, equivalent to US EPA Tier 3/EU Stage IIIA standards, while delivering the same power and fuel economy as predecessor engines in both working and traveling modes. The C4.4 ACERT also contributes to reliability with a fuel system designed to manage worldwide fuel quality. A primary fuel filter/water separator features a water-in-fuel switch that indicates when draining is required, thus reducing the risk of fuel-system contamination. An additional secondary fuel filter has been added to further enhance filtration capability.
Cat wheeled excavators can travel independently between job sites at high speeds (up to 37 kph), reducing travel time transportation costs. The new models also serve as utility machines for moving material on site.
Two stick options are available for each model, and a one-piece boom provides easy operation in all applications, whether loading trucks, working close to the machine against the blade, or in situations requiring maximum digging depth and reach. The Variable Adjustable (VA) boom is designed to improve right-side visibility and roading balance, as well as to facilitate working in tight quarters or lifting heavy loads. For dozing capability, the new models are available with a radial blade, and available outriggers enhance stability.
Cat attachments are designed to function as an integral part of the excavator and are performance-matched to Cat machines. The new wheeled excavators are available with a wide range of attachments, including quick couplers, specialised buckets, hammers, multi-grapples, vibratory-plate compactors and shears.
The M315D2 and M317D2 are equipped with the Cat Product Link system, deeply integrated into machine systems and providing timely, useful information that assists in effectively managing equipment and associated costs. Remote monitoring via the web-based VisionLink application allows access to data such as location, security alerts, fuel burn, idling time versus working time and diagnostic/event codes. Knowing where equipment is located, what work it is doing, how it is performing, and its general state of health allow machine owners to improve the overall effectiveness of their operations and lower operating costs.