A trend towards the use of vertical turbine pump (VTP) technology – which is gaining momentum in sectors including petrochemical, mining and bulk water – is based on a number of valuable benefits over traditional options.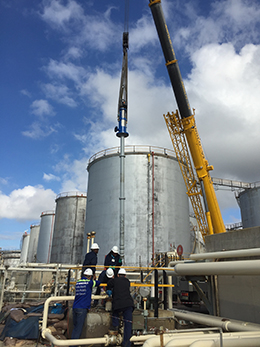 According to Kevin Roelofse, Weir Minerals Africa's dewatering product manager, Floway vertical turbine pumps have particular advantages for applications such as booster pumps in bulk water applications and for condensate extraction in facilities that operate boilers, such as power stations. The release of a Floway vertical turbine slurry pump (VTSP) also represents a technology breakthrough that is being well received.
"In booster pump stations, VTPs allow savings on civil engineering infrastructure as they have a smaller footprint, but more significantly they offer important operational cost efficiency related to reliability and lower maintenance," says Roelofse. "The VTP can be multi-staged, with numerous impellers in the column, for large volume and discharge pressure applications."
Bulk water applications
While the traditional horizontal pump can offer up to a two-stage horizontal split casing configuration in a large-volume application, the impeller needs to be of a substantial size.
"This means that the impeller tip speed will be high, so it will wear quicker and require more maintenance," he said. "The horizontal configuration also has to contend with uneven wear in the bearings and pump contact surfaces on either side of the impeller, as gravity and hydraulic forces are unbalanced throughout the 360° arc in the volute casing."
By contrast, the VTP achieves lower wear and less maintenance by incorporating a number of smaller impellers along its column, so the speed at the impeller tip is lower. Gravity also applies equal forces on the bearings all round, so there is a uniform 360 degree wear profile on the wetted components, giving a longer life across the bearings.
Condensate extraction
Any facility that includes boilers – common in the energy generation, paper and petrochemical sectors – will know the challenges facing condensate extraction pumps. The equipment, vital to the movement of condensed steam, faces the danger of cavitation or pitting of impellers leading to inconvenient and costly downtime for replacement.
"If there is insufficient suction pressure on the hot condensate – then the vacuum existing at the suction of the impeller can exceed the water vapour pressure and can cause it to vaporise, imploding onto the impeller vanes and causing considerable erosive wear on these impeller vanes due to cavitation," says Roelofse. "This is devastating for the longevity of a centrifugal pump."
The VTP comes into its own in these condensate extraction applications because the vertical column length can be designed in such a way that there is sufficient downward pressure of the condensate, restricting its ability to vaporise and damage the impeller vanes. To create the necessary inlet pressure head in a horizontal pump, the condenser would need to be elevated several metres. Instead of doing that, a vertical turbine pump can be installed, removing many of the complexities previously experienced in this application.