Terex Cranes has announced a new standard two-year warranty for all new Demag mobile crane equipment purchases, effective immediately. From the outriggers and engine to the cab and controls, the new warranty covers all crane components from defects in workmanship for 24 months.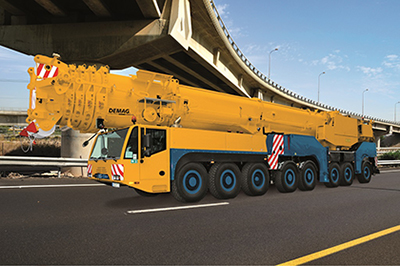 "Our customers trust Demag cranes because they have the confidence that the equipment is ready to work every day. Doubling our previous standard warranty period for all Demag models demonstrates our dedication to our customers' success," says Steve Filipov, President of Terex Cranes.
Since the reintroduction of the brand at bauma 2016, Terex has celebrated many new Demag model innovations, bringing the "Above. Ahead. Always" tagline to life with outstanding benefits for Demag customers.
Model introductions include the three-axle Demag AC 55-3 and AC 60-3 all-terrain cranes serving the 55 and 60 t capacity classes. The four recently introduced five-axle models – Demag AC 130-5, AC 160-5, AC 220-5 and AC 250-5 – offer class capacity ratings from 130 to 250 t to provide customers with a wide variety of lifting solutions to meet virtually any application. Also covered under the two-year warranty are these new Demag product introductions, as well as planned innovations slated for release later this year.