The professionals and businesses at the 17th SMOPYC, held at Feria de Zaragoza, in Spain, from April 25 to 29, have classed it as a breath of fresh air. The trade fair was the best platform and a "turning point" for the sector internationally, as indicated by the president of Feria de Zaragoza, Manuel Teruel.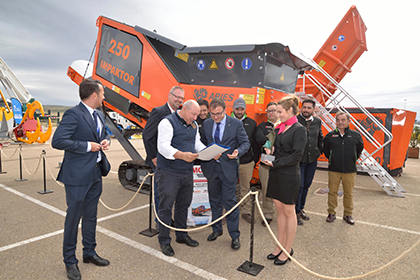 After five days of intense activity and a high number of visitors, the figure of which reached 55 317, the fair confirmed the confidence that the sector places in this event and revalidated the authority of the trade fair on the national and European scene. SMOPYC acted as a meeting place for the Spanish market, as the 65 000-plus m² of exhibition space hosted a total of 870 companies, of which 488 were international brands from up to 49 different countries.
After the event, the sector seems much more confident and optimistic, as could be seen by the number and quality of products on display in the six halls and the outdoor area of the fair. The 17th International Trade Fair for Public Works, Construction and Mining Machinery is said to have been overwhelmingly supported by industry and has become an obligatory meeting place for this segment.
As part of the important changes of this year's event, the 1st Torres Quevedo-New Ideas Machinery Award, by way of which Feria de Zaragoza recognises the talent of young university students who represent the future of the sector; the exhibition of projects produced using recycled materials; and the Gallery of Major Works were three driving forces at this event that were welcomed by its professional visitors.
Together with these initiatives, and aware of the importance of being at the forefront in all processes, products and technologies involved in the infrastructures sector, the SMOPYC 2017 organisation offers an extensive schedule of activities. The many meetings, assemblies, forums and debates held over the five days of the trade fair confirmed its recognition.