HPE Africa has delivered 21 new Hyundai wheel loaders to a leading electricity generating parastatal in South Africa, during the first half of 2017.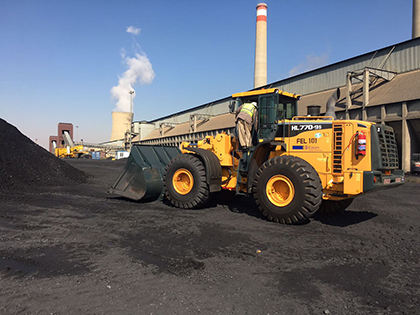 "Robust Hyundai HL770-9S wheel loaders, designed for maximum performance and optimum productivity, offer precise operation and easy control, even in difficult conditions," says Alex Ackron, MD of HPE Africa, the exclusive distributor for Hyundai Construction Equipment in southern Africa.
"The versatile machines, with an operating weight of 22 500 kg and heaped coal bucket capacity of 6,2 m³, are perfectly suited to the arduous terrain and handling requirements at power stations," he adds.
New features of these wheel loaders include an advanced load sensing hydraulic system with efficient variable volume pump technology, automatic power shift transmission with variable shift control and a multi-stage clutch cut-off feature.
The fully automatic transmission system allows the operator to customise automatic transmission shift timing and clutch cut-off, based on operating conditions and personal preference. Variable operating modes – power, standard and economy modes – contribute to improved productivity, reduced fuel consumption and enhanced operator comfort.
The combination of high pressure common rail system and advanced in-cylinder combustion technology in the Cummins tier 3 engine results in increased power, improved transient response and reduced fuel consumption.
The 'ride control system' – an optional feature – has a shock absorbing accumulator that cushions the boom, reduces material loss and improves operator comfort. Self-adjusting brakes automatically regulate disc clearance, improve brake performance and reduce service time.
Hyundai's new Hi-mate remote management system enables users to track and monitor a machine's performance and daily operation history. This system utilises GPS satellite based technology to access accurate diagnostic information, evaluate equipment reliability and to verify a machine's location.
HPE works closely with a broad customer base to modify equipment, when necessary, to meet exact performance requirements. Field tests ensure every machine conforms with stringent quality and safety specifications and meets exact application requirements. The company also offers a critical support service that encompasses a parts, repair and maintenance facility.