Atlas Copco Portable Energy recently supplied four state-of-the-art HiLight V5+ LED light towers mounted on custom-built double-axle trailers to trading partner, Tracpart Mining Supplies. The end-user, a coal mine in Mpumalanga, uses the light towers for above ground lighting applications.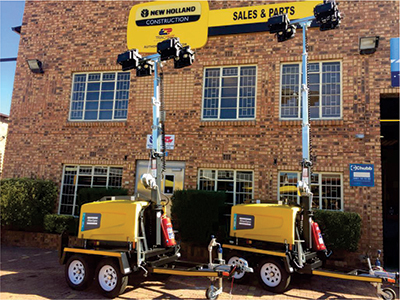 When approached by the coal mine to supply light towers, Tracpart immediately turned to Atlas Copco for a solution. "We supply Atlas Copco dewatering pumps and portable generators and are familiar with the proven quality of this globally renowned brand," says De Wet van Wyk, co-founder of Tracpart.
Thanks to the state-of-the-art LED technology, the HiLight V5+ light towers provide up to 25% more light compared with metal halide lamps, while delivering average fuel consumption savings of 60% and reduced CO2 emissions of up to 70%.
Tracpart's core business is the supply and servicing of new and used tractors for underground and surface applications primarily in the coal mining sector. The company supplies nine major blue chip mining groups which consist of over 30 mining operations as well as large steel producers in Mpumalanga and surrounds.
Located in Emalahleni, the company also specialises in construction equipment and supports its extensive OEM product portfolio with aftersales service, parts supply, maintenance, repairs, remanufacturing and field service.
"Our strong focus on coal mining positions us as a specialist solutions supplier to this sector," says De Wet. "As more and more mines in the region are reaching maximum depths and consequently moving to surface mining, we have expanded our scope of supply from underground machines, equipment and services to meet the growing demand for surface mining solutions," he says.
"As part of our service offering, we conduct regular customer site visits and during one such visit to a coal mine, the customer advised that they urgently needed four light towers. Having used only metal halide light towers, the coal mine requested replacement of the same but when the many advantages of the HiLight V5+ light tower range with cutting-edge LED (Light Emitting Diode) technology came to light, the mine did not hesitate in making the switch to LED."
"Atlas Copco's heavy-duty LED light towers offer robust, reliable, efficient, economical and safe lighting solutions, ticking all the boxes when it comes to mine requirements such as SHEQ, low operating expenses and environmental responsibility," says David Stanford, Business Line Manager – Portable Energy division, Atlas Copco Power Technique.
He explains that the special optic lenses in the HiLight V5+ LED light tower are designed specifically for mining and construction applications. "Depending on the model, a single HiLight LED light tower can illuminate a 5 000 m² area with an average brightness of 20 lux, while consuming less than 0,7 litres of fuel per hour," says Stanford.
"As the emitted light from LEDs is close to natural light sources, it delivers the correct tone of light. The fully directional optic lens maximises practical light coverage while minimising 'dark spots', improving visibility on the job site for enhanced worker safety and comfort," says Stanford, adding that LEDs have an impressive 30 000 hour lamp life expectancy.
Highlighting another time saving feature of the low noise V5+ light tower, Atlas Copco Portable Energy's Zandra van der Westhuizen says that the manual vertical mast can be rotated quickly and easily to light a different area while fully extended to its maximum height of 7,5m.
"Furthermore, supported by the extension legs, the light tower can operate in wind speeds of up to 80km/hr. Taking into account longer service intervals (and reduced maintenance costs), the light towers ensures maximised uptime and consequently increased productivity for end-users," concludes Van der Westhuizen.