BLT reports that the mining sector in Africa has shown particular interest in its MDS trommel screens and apron feeders, designed especially for mineral processing and recycling applications. BLT supplies an extensive range of heavy duty materials handling equipment into Africa, which includes trommel screens, link conveyors, grab hoppers, surface feeders and radial boom stackers.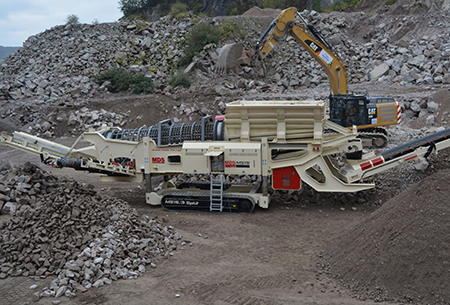 "By using trommels to remove clay and wet sticky material, crusher and vibratory screen blockages are prevented and this efficiency contributes to increased production," says Ken Mouritzen, MD of BLT. "Flexible MDS systems are used to remove the small fraction – fines from a waste stream, to make the remaining material easier to handle for the operatives or processing equipment."
Heavy duty MDS trommels, which are available as mobile and stationary units, have output capacities between 250 and 1 000 t/hour and can handle rock size up to 1,5 m.
"The most popular machine in the MDS range, the M515 track trommel with a 30 t hopper capacity, has been supplied with fold out stockpiling conveyors and is able to move around a mine and from one site to another. This machine is capable of producing three products concurrently, at an output of over 400 t/ hour," says Mouritzen.
"In a recent project, the machine removed fines up to 120 mm through the radial fines conveyor at the rear of the unit. A mid-sized product (120-250 mm) was produced through the left conveyor and oversize materials (250-750 mm) out the end of the machine. A notable feature of this unit is that it is efficiently separates difficult and sticky materials and handles large ROM."
Other units in the range include the M615 static trommel, designed for removing soils and fines from rip rap or blasted rock. The machine has an output capacity between 350 and 500 t/hour. The M820 unit is a large, heavy duty rock trommel, capable of screening rock up to 1 m in size, at approximately 750 t/hour. The modular machine is available with three or four splits and is suitable for cleaning dirty rock or for screening blasted material.
The static M825 machine, which handles rocks up to 1,5 m in size, is perfect as a primary screener for material direct from a blast. The hopper, with 100 t capacity, can be loaded by dump trucks, with an output of 1 250 t/hour. This unit is also available with an hydraulic rock breaker.
MDS apron feeders, with an electric or hydraulic drive, are available as standard units for quarries, aggregates or recycling applications and as heavy duty machines for mining, ore and coal environments.
Key players have also shown interest in BLT's robust Samson automated handling equipment. The flexible systems, which require minimal civil works, are designed to join together fixed and mobile equipment, providing a cost efficient and highly productive alternative to fixed bulk handling installations.
The Samson MF0814T tracked material feeder, with a holding capacity of up to 100 t, is designed for high accuracy in discharge control and operate efficiently in arduous mining environments.
This system, which is a flexible and cost efficient alternative to conventional underground hoppers, is installed above ground by simply being bolted to a flat concrete slab foundation, eliminating costly civil engineering works. Even in fixed installations the portable system can be easily relocated for future plant development.
Samson material feeders are suitable for heavy duty applications with continuous use, including impact loading from articulated dump trucks and large loading shovels, providing a buffer storage capacity, without the need for large ramps or underground pits. Since material is drawn from the tipping truck in a controlled stream, dust generation is significantly reduced, minimising environmental pollution.
A wide belt design, with vertical hopper sides, enables fast truck discharge and the efficient conveying of any material, without the risk of blockage. Steel apron bar technology provides the strength of an apron feeder, with clean operation. Conveyor chains are always outside the material flow, which means chain wear is reduced and inspection is easy.