Family-owned business Linco Construction has been using its TA300 articulated haulers to assist with the evacuation and rescue of victims affected by Hurricane Harvey in Houston, Texas, United States.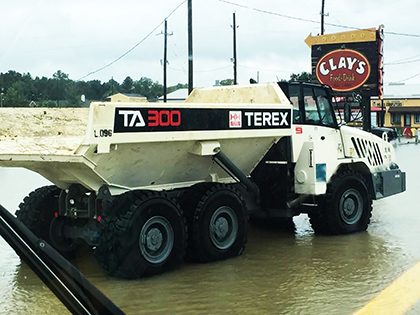 Following the destruction left in the wake of the tropical storm, which hit the city on August 25, 2017, Linco sprung into action, taking its articulated framed trucks to the streets to rescue victims of the severe flooding that stemmed from the hurricane.
"The damage that Hurricane Harvey caused was unimaginable," says Stephen J. Brown, president and CEO at Linco Construction. "We have experienced tornadoes before but this was incomparable. There has been flooding, roofs have been ripped off and as a result, many families have been displaced – so our pitching in where possible once it was safe to do so was a no-brainer."
"We wasted no time putting the TA300s to work to help rescue and evacuate victims of the storm. There is still a huge task ahead for the entire community in the coming weeks and months to restore the city of Houston, and here at Linco we are ready and willing to offer any assistance required with the people, tools and machines we have."
A Category 4 cyclone, Hurricane Harvey was the strongest storm to make contact with Texas since 1961, and mainland US in 12 years. With winds at 130 mph, some areas experienced rainfall that exceeded 50 inches (1 300 mm), flash flooding and tornadoes. The hurricane also affected neighbouring state, Louisiana, when it made its third and final landfall on August 29 before dissipating on September 3.
Moving into the next phase of the relief mission, Linco is set to rally together alongside other volunteers to help the city recover from the natural disaster. The first step in the operation will involve removing debris to make way for the reconstruction works.