The Manitou group, global in rough-terrain handling, earned the Equipment and Material prize in the Components and Attachments category at the 2018 Intermat Innovation Awards. The award recognises the group for its patented machine stabilisation system for the MRT 2470 and MRT 3050 models. The prizes were handed out at the pre-Intermat event on January 18 at Maison de la Mutualité, Paris.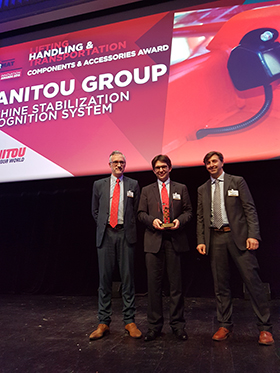 A pioneer in the market of rotating telescopic forklifts, the Manitou Group saw great success since launching the MRT 2470 and MRT 3050 models. The company says the Equipment and Materials prize at the international Intermat Innovation Awards brings to light the innovations that have contributed to the progress in the areas of industry and construction and materials.
The jury, made up of 14 professionals from seven different countries, championed the strain gauge system of the MRT 2470 and MRT 3050, which measures the strain on the stabilisers' axes. The recognition system improves reading the information regarding the strain applied to the ground, and automatically modifies the load capacity of the machine. This allows the user to identify on the dashboard the pressure of the stabilisers on the ground and their range of expansion, which also contributes to increasing its safety.
"We are always looking to optimise our users' experience. Thanks to this new system, developed and patented by Manitou, handling operations are more precise and safer, which allows our clients to considerably increase their productivity. Awarded by a panel of experts in construction and infrastructure, this prize makes the group proud. It acknowledges, recognises and highlights the research and development work we have undertaken for several years," says Arnaud Boyer, VP Marketing and Product Development.