Providing a maximum lift capacity of 3 t and a maximum lift height of nearly 7 m, the new TL30.70 compact telehandler from Bobcat is designed for a wide range of applications found in the construction and rental industries.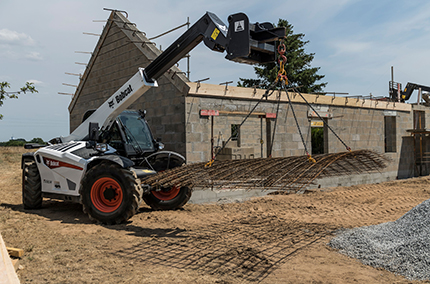 The TL30.70 provides a compact and cost-effective alternative to larger 7 m models, especially where working spaces are tight and increased manoeuvrability is required. In addition, performance is not compromised as the TL30.70 offers a maximum reach of 4 m with a load of more than 1 t.
At the maximum lift height, users can lift up to 2 t of weight, which is sufficient to place a pallet of heavy bricks in most conditions. The compactness and stability of the TL30.70 will make the machine a perfect tool for easy pick and go or for lifting materials to height on housing and commercial property developments.
Like all Bobcat telehandlers, the TL30.70 has a heavy-duty hydrostatic transmission that allows smooth and precise low speed travel, with the ability to immediately go faster or work harder when required.
The Bobcat auto-shift transmission automatically adapts the motor torque and speed to the desired level for the job. Operators have the benefit of not having to take their hands off the joystick to change gear. Last but not least, the premium transmission is equipped with an inching function that allows the operator to be even more precise in low speed applications without having to use the brakes, reducing fatigue and increasing safety.
Bobcat has designed all of its telehandlers with the same box-welded frame for enhanced rigidity. The shielded bottom plate protects vital components and a combination of specific features maximises reliability and reduces total cost of ownership in severe conditions, including high-tensile steel, U welded shapes, the integrated boom head, new generation wear pads, large bolts and large steel inserts for increased friction coefficients.