The countdown has begun: bauma CONEXPO AFRICA opens its doors next week. The largest trade fair for construction machinery, building material machines, mining machines and construction vehicles in Africa continues to attract international participation, highlighted by four new joint pavilions and exhibiting companies from all over the world.
bauma CONEXPO AFRICA will take place at the Johannesburg Expo Centre from March 13 to 16, 2018. After a period of above-average growth rates, the economy in the sub-Saharan region experienced a difficult phase over the past two years. However, progressive urbanisation, increasing industrialisation and the expansion of infrastructure in sub-Saharan Africa, provide high investment potential for the industry, according to experts.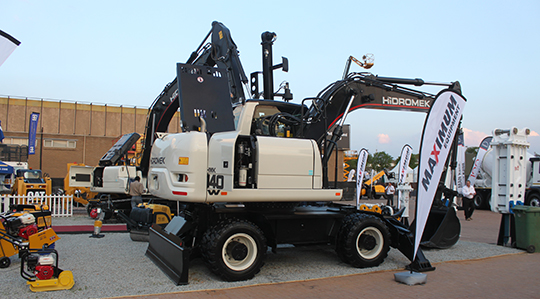 "In view of the general economic conditions, interest in bauma CONEXPO AFRICA is satisfying," says Stefan Rummel, MD of Messe München. He is pleased "about the number and quality of new exhibitors". Exhibitors including Acrow Misr, Caterpillar, Deutz Dieselpower, Epiroc, Hidromek, Iveco, Kimera, Mahindra, Mait, Motul, Preform, Schwing/Stetter, SEW-Eurodrive, Sinotruk, Tata and Weir Minerals are represented at the trade fair for the first time.
The high reputation, which the trade fair has acquired since its premiere in 2013, attracts both local and international exhibitors. Eight countries or regions are exhibiting with joint pavilions and are consequently taking advantage of central organisation. A European pavilion including 11 exhibitors from Germany, Finland, Great Britain, Italy, Russia and Spain, will be present at bauma CONEXPO AFRICA for the first time.
There are also new joint stands from India, Poland and Singapore. Since last exhibiting in 2013, Austria has returned with a joint pavilion. China, Germany and North America will also be represented through pavilions. China has the largest with 89 exhibitors.
The organisers, BC Expo South Africa, Messe München and the North American Association of Equipment Manufacturers (AEM), expect approximately 450 exhibitors. These include many large companies such as Bauer, Bell Equipment, Doka, ITR Africa, Putzmeister, Pan Mixers South Africa, Shantui and Vermeer.
One main focus of the trade fair is the exchange of ideas between experts through networking and special areas. Live interactive demonstrations in the demonstration area and presentations by various exhibitors in the Speakers Corner provide visitors the ideal platform to view the latest innovations, expand their networks and initiate business deals. Deputy Minister of the Department of Trade and Industry, Bulelani Magwanishe, and German Ambassador to South Africa, Martin Schäfer, will also visit the show and officially open the trade fair on March 13.