Mobility, flexibility, reliability, efficiency and precision drilling capacity are said to be key characteristics that define Epiroc's ROC family of drilling machines, making them the most suitable for Pieter Malan, GM at Booysen Bore Drilling Company.
This specialist drilling company is currently operating three generations of surface drill rigs, the ROC L8 MK I and ROC L8 MK II supplied by Atlas Copco alongside the latest FlexiROC D65 machines from Epiroc. The recent delivery by Epiroc of three FlexiROC D65 surface drill rigs has bolstered this longstanding Northern Cape customer's total drilling machine fleet to 51.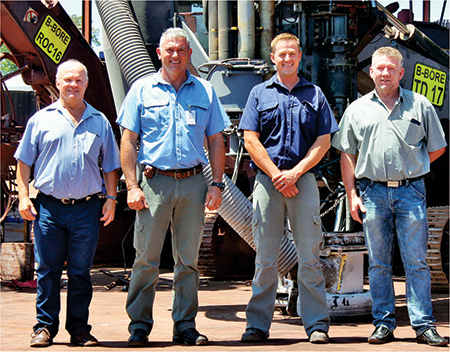 From left: Cobus Engelbrecht (Epiroc); Pieter Malan (GM Booysen Bore); Hein Booysen (Booysen Bore) and Hedley Birnie (Epiroc).
Booysen Bore purchased its first FlexiROC D65s in 2013, which have up to now drilled in excess of 500 000 x 300 mm diameter holes for nine Northern Cape solar farms, as well as a large number of blast hole meters in Northern Cape mines. Its fleet also includes a SmartROC D65 for blast-hole drilling, as well as a few CS14 and CS1500 core drilling machines.
Epiroc evolved from the global split in January 2018 of Atlas Copco into two separate companies and comprises the Mining & Rock Excavation Technique Business Area and Construction Tools division to focus on the mining and civil engineering sectors. The industrial businesses remain with Atlas Copco.
Epiroc Business Line Manager, Surface & Exploration Drilling (SED), Hedley Birnie, explains how the business partnership with Booysen Bore started. "In 1999, SED Area Sales Manager for Atlas Copco, Cobus Engelbrecht, conducted the very first trial with a ROC L8 MK I test machine for Booysen Bore at Beeshoek Mine. The machine was the first drill rig capable of drilling at an angle making it ideally suited for block drilling. Booysen Bore was so impressed with the ROC L8's performance that they decided to keep the machine for blast-hole drilling on the mine and to systematically replace all their non-Atlas Copco drill rigs at the end of their life cycle with ROC L8s."
When founded in 1977 by Hennie Booysen, Booysen Bore focussed mainly on exploration drilling. In 1990 the family business expanded its services to blast-hole drilling and continued to grow into the successful business and major role player in the Northern Cape's mining environment that it is today.
Part of the Mogs (Mineral, Oil & Gas Services) Group, Booysen Bore's offering includes Down-The-Hole (DTH), percussion, exploration and core drilling as well as in-pit de-watering drilling services. Operating with a staff of 430 from the Kuruman head office, supported by an office in Beeshoek under the auspices of Hennie's son Hein as general manager and a facility in Kathu, the company is active mainly in the province's iron ore and manganese mines but also holds a sizable market share in the supply of drilling services to solar facilities in the region. 38 out of the total of 51 ROC L8, D60 and D65 machines are currently in operation.
Pieter explains that the Northern Cape area presents some of the most challenging conditions in the world. "We drill into some of the hardest rock in the world, with compressive strengths above 500 MPa under extreme surface and weather conditions; these drilling machines take a huge hammering. While most machines start to fall apart after only a short time of drilling, the Epiroc drill rigs give us up to 80% availability over many years of operation. Only machines of this exceptional quality will last for 30 000 hours plus. In addition, the ROC boasts the lowest fuel consumption per drilled metre compared to all other machines used by Booysen Bore in the blast-hole environment. So as far as we are concerned, when it comes to technology, reliability, ease of operation, manoeuvrability and fuel efficiency, the ROC machines are in a class of their own."