As growth in the global compact wheel loader market continues apace, of note is that the market is in the midst of a transformation, with a technological revolution sweeping across the entire segment, writes Munesu Shoko.
As the global construction industry continues to move in the direction of compact equipment, with urbanisation and running costs of capital equipment among the major driving factors, the global compact wheel loader market is set to see considerable growth in the next few years.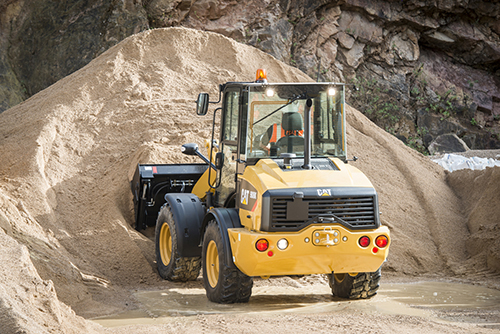 A recent research report by Future Market Insights – Compact Wheel Loaders Market: Global Industry Analysis (2012-2016) and Opportunity Assessment (2017-2027) – offers detailed analysis and insights on the future direction of the global compact wheel loader market. The report predicts that the market is likely to grow at a moderate CAGR of 2,5% between 2017 and 2026, reaching a valuation of USD314-million during that period.
Speaking to Capital Equipment News recently, a representative from Future Market Insights noted that global sales for compact wheel loaders reached nearly 25 700 in 2017, a figure expected to rise to
31 400 by the end of 2026. According to the report, Asia-pacific, excluding Japan (APEJ), is the most lucrative compact wheel loader market globally, and will remain so in the foreseeable future. The region is home to some fastest growing economies in the world, most notably
India and China, and growth of the construction sector in APEJ provides an impetus to the compact wheel loader market in the region.
However, the compact wheel loader trend is still to entrench itself in the Middle East and Africa (MEA) region. The region is expected to account for an 8% share of the global compact wheel loader market by
2026, and demand is envisaged to remain sluggish in MEA during the forecast period.
Mark Senyard, national support and marketing manager at Kemach Equipment, the South African supplier of the JCB range of equipment, shares the same view, saying that the South African compact wheel loader market, for example, has remained relatively flat from 2010 through to 2017, with an average of seven units sold per month.
Marked growth
Jas Kundra, Compact & Small Wheel Loader product and application specialist at Caterpillar, agrees that globally there has been a marked growth of the compact wheel loader market in recent years. "I couldn't agree more," he says. "One of the reasons is the simplicity of operation of compact wheel loaders, especially when there are shortages of skilled machine operators across geographies. When you are operating a wheel loader for the first time, the lay-out is somewhat familiar since you have a steering wheel, a brake and accelerator pedal, not dissimilar to a car."
Kundra says that Europe is already a well-established compact wheel loader market, while the recent growth in North America has also fuelled the uptake. "I expect to see the compact wheel loader become a staple tool in other regions, such as Africa and the Middle East, in time," says Kundra.
Despite the slow growth locally, Dennis Vietze, MD of Wacker Neuson Sub-Saharan Africa, says the sector is certainly showing signs of growth, even if it's from a very low base.
Lofty van Wyk, director of MultiOne South Africa, the exclusive Southern African dealer for Italian articulated compact wheel loader maker, MultiOne, says proof that the compact loader market is expected to grow is the influx of new manufacturers in the local market. He already sees intense competition in the sector, where price is seemingly becoming a determining factor.
Weight range
On the basis of operating weight, the key segments in the compact wheel loader market are said to be the less than 6 000 kg and more than 6 000 kg. Currently, by operating weight, less than 6 000 kg accounts for higher revenues than the other segment.
MultiOne SA's compact loader offering ranges from 600-2 600 kg. "Our range is, in essence, a true compact wheel loader line with the ability to take a vast range of interchangeable attachments. We remain only in the mini loader market under 3 000 kg and are not competing in the bigger loader market. Key to our offering is the capability to transport our loaders on small trailers behind commercial pickups in the most cost effective manner and speedy way," says
Van Wyk. "We are seeing good growth in the small wheel loader segment, being the sub 1 000 kg range, as more DIY customers are looking at alternatives to unreliable labour-based operation," adds
Van Wyk. According to Vietze, Wacker Neuson operates in the less than 6 000 kg segment of the compact loader market.
"Our machines range from 1 720 kg to 5 900 kg of operating weight," he says. Meanwhile, Kemach, with its JCB range, also operates in the less than 6 000 kg segment. "We only have the JCB 406 in our compact wheel loader range," says Senyard.
According to Kundra, Cat operates in both the less than and greater than 6 000 kg segments of the compact loader market. Cat's 906K, 907K and 908K compact models are high volume machines ranging from 5,5 t to 6,5 t. "In South Africa, the largest compact models are the Cat 910K and 914K, weighing around 8 t and 8,5 t, respectively. The compact models are manufactured in our UK plant in Leicester," he says. "The 906K, 907K and 908K are very popular models and we are experiencing an increase in demand."
Comfort and convenience
As growth in uptake continues, the global compact wheel loader market is said to be in the midst of a transformation, with technology sweeping across the entire industry. Increase in comfort and convenience of cabs is one of the major improvements in this range of equipment in recent years.
In the past there was a clear disconnect between the needs of the machine owner and the operator, and often the operator's needs were never part of the buying decision. Today, machine owners have since grasped the fact that operator comfort is a key factor in the overall productivity and total cost of ownership of the machine.
Senyard says the JCB compact wheel loaders like the 406 are designed to make work more straightforward. "They are easy to access, intuitive to operate, and are operated from the centre of the machine for superb visibility. After all, a comfortable, confident operator is a more productive one," he says.
The JCB 406 benefits from a comfortable and spacious cab. The operating position is designed for optimum all-round visibility, unhindered by components like silencers. The tilting telescopic steering column is easy to adjust for an ergonomic driving position.
All the instruments needed to operate a JCB wheel loader are within easy reach of the seat, so there is no need to hunt around for information while working. Kundra agrees that there is a real need for comfortability as operators are increasingly spending more time in the cab. He adds that improvements in this regard can be split into two areas: the interface to control the machine and comfort.
"Both are important but one could argue that the interface to the machine plays a larger part," says Kundra. "Operator fatigue is reduced with low effort, electro-hydraulic joystick controls. Caterpillar is the only manufacturer offering a complete electro-hydraulic control system, and therefore can develop software updates and features that increase productivity, without the need for any hardware changes. And when the machine is serviced these new features are automatically installed, at no cost."
In terms of comfort, Cat has significantly lowered incab sound levels. The OEM has just recently released
a premium seat option for its range of compact wheel loaders following feedback from owners and operators.
Comfort is also an area where Wacker Neuson has paid particular attention in its compact loader designs. "Our cabs are all state-of-the-art in terms of functionality and comfort. We also place a premium on visibility for the operator. All function switches are colour coded and easy to reach. Due to the hydrostatic drive, there is minimal strain on the operator. A unique feature on our machines is also the ability to change an attachment from the comfort of your seat by means of a hydraulic quick hitch system," explains Vietze.
Van Wyk says MultiOne has introduced a number of "fancy" options to its cabs lately with full glass enclosed cabins available, optional air-conditioning units and much improved controls making the M1 range more user-friendly and simpler to maintain, too.
"We also offer insulation in the cabs, as well as a host of electronic options to assist with attachment control. In addition, we offer very affordable plexi glass cabins for the local market to keep debris and dust out. We also now offer high back luxury seating on our bigger models," says Van Wyk.
Further improvements
Apart from operator comfort, OEMs continue to implement other major design improvements as the compact loader continues to evolve. For example, with a vastly strengthened and redesigned double Hframe boom, MultiOne's range offers increased lifting capacity.
"High output radial piston wheel motors as well as the inclusion of Poclain hydrostatic pumps offer greater performance in the hydrostatic drivetrain," says Van Wyk.
According to Kundra, Cat's state-of-the-art electro-hydraulic system provides low effort, fine control with fast cycle times.
The Cat exclusive Road & Load package option includes Rimpull control, implement speed control, hystat modulation, to name a few. "Coupled with this, is our belief in being 'efficiently powerful' and there is no better example than the Cat hydrostatic drive system," he says.
"Customers can realise significant savings in fuel and tyre wear thanks to the Rimpull Control, which allows operators to reduce tyre slip in poor underfoot conditions, promotes more efficient bucket loading for reduced tyre wear and improved productivity. The operator can select among four settings to adjust power reaching the wheels, based on working conditions," adds Kundra.
Application range
According to the Future Market Insights report, key application segments for the compact loader market include construction, ground maintenance, landscaping, mining, forestry and agriculture, among others. However, construction remains the largest recipient of the compact wheel loader, and sales to the segment are predicted to reach a valuation of close to USD160- million by 2026.
Kundra says the reason why construction is the main recipient of this range of equipment is that it is inherent to their design.
"These machines do what they are designed to do. Moving more, do more at a lower cost, safely and efficiently. The compact wheel loader is a widely used machine for general construction. It is a relatively simple machine to operate and it offers great visibility. It's one of the reasons why it's so popular in Europe: an extremely productive machine that is simple to operate. It can be configured simply or for more complex requirements," says Kundra.
Locally, compact wheel loaders are finding more application in agriculture. Van Wyk reasons that there has been a significant shift towards compact loaders in materials and grain handling in farming, and it's opening up a segment of the market traditionally reserved for telehandlers and skid steers. "Our largest market at present is agriculture, although construction accounts for about 35% of the market," says Van Wyk.
Jack of all trades
One of the key advantages of the compact wheel loader is its versatility. According to Senyard, with a quick hitch and standard bucket and forks, compact wheel loaders are well suited to a range of applications, including general construction worksites and various agricultural applications due to the versatility of the bucket and forks for lifting and stacking of pallets. "With the option of additional valves and hoses, numerous other attachments can be utilised with this machine," he says.
Speaking of attachments, Van Wyk says MultiOne offers over 170 different attachments at present, and the list is growing. "Our markets consist of DIY, farming and agriculture, construction, landscaping, cleaning, materials handling and mining," he says.
According to Vietze, Wacker Neuson's four-wheel drive, four-wheel steer offering is unique to this segment.
"Manoeuvrability is key for a compact wheel loader, as is the fact that the 4wd/4ws offers constant load and stability. Sectors where we have been successful with our product offering are builders yards, brickyards, agriculture and general construction," says Vietze.
Task, Tool, Machine. What job needs to be done? What tools are required to complete the job? And then, finally, what machine is required to power that tool efficiently and effectively?
According to Kundra, this is a core principle that has allowed the compact wheel loader to venture into a wider range of applications.
"Some of the more recent application growth areas are road maintenance and utility work. The compact wheel loaders are becoming a preferred choice when it comes to powering hydro-mechanical tools such as the Cat T15B trencher and hydraulic brooms, among others, and the machines go wherever the tools need to be applied," concludes Kundra.