Vögele, part of the Wirtgen Group, showcased its strengths once again at Intermat 2018. The display of the SUPER 800-3i, a success model from the Mini Class series for paving widths of up to 3,50 m, was one of the major highlights. In the Compact Class, the company presented the SUPER 1303-3i wheeled paver, which is mainly used on municipal job sites and, in the Universal Class, the SUPER 1800-3i, tracked paver which also cuts an impressive figure in highway construction.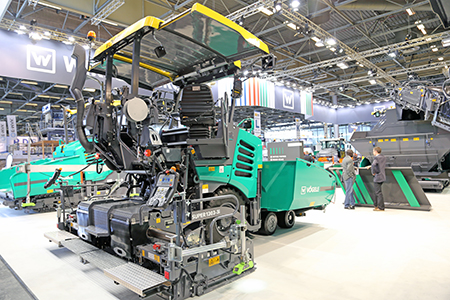 The exhibit at the trade show was equipped with a very special innovation: the RoadScan non-contacting temperature-measurement and control system. RoadScan makes an important contribution to the enhancement and documentation of paving quality.
A representative of the Highway Class, the SUPER 2100-3i, rounded off the range of pavers on show. Vögele also proved that its know-how is not limited to road pavers, presenting its state-of-the-art MT 3000-2i Offset PowerFeeder. The material feeder's pivoting conveyor opens up unimagined possibilities for paving teams – such as feeding pavers with mix from the side.
Another highlight was the presentation of WITOS Paving: the telematics-based process management solution networks, among other things, the asphalt mixing plant, the truck and the paver, and in this way ensures efficient and transparent processes at the job site. As everyone involved receives all the data in real time, they can coordinate the paving process precisely and react quickly to deviations. WITOS Paving is therefore the ideal solution to meet the requirements of modern road construction.