The JSE-listed DAWN Group announced on 17 March 2017, that Edwin Hewitt has been appointed to the Board of Directors, and will assume the role of the new Chief Executive Officer, effective 1 April 2017. Stephen Connelly, the current CEO, will take up the position of executive deputy chairman of the Group.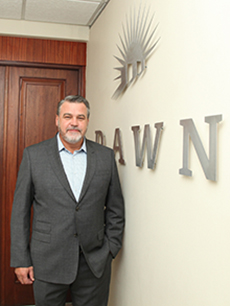 Edwin Hewitt, chief executive officer DAWN Group.
Connelly played a leading role in bringing stability back to the Group and managing relationships with key stakeholder groups. This was achieved with the assistance of Group Chairman, Diederik Fouche, who actively supported the executive leadership during this critical period.
Friday's announcement comes off the back of news earlier this month that the necessary resolutions for the DAWN Group to implement a rights offer have been obtained, and clears the way for raising R350-million through issuing 350 million additional shares.
Hewitt is well-known in the construction and materials sector, having previously occupied positions as CEO of Capital Africa Steel, CEO of Petzetakis Africa; Group executive director and CEO of the Fabrication and Manufacturing Division in the Murray & Roberts Group; and MD of Murray & Roberts Foundries.
He has a highly successful track record in turning around businesses and restoring profitability in the face of tough economic conditions. This was particularly evident in his two most recent posts – at PPC, where he worked with PPC and South Africa's four major banks to be part of a team doing a capital raise and de-risk critical projects, and prior to that as CEO at Capital Africa Steel, a company owned by WBHO and Brait, where he had to review and restructure the group.
Hewitt joins the DAWN Group at a time when it is grappling with the protracted fallout of the global economic crisis, and South Africa's more recent general economic downturn.
Hewitt says this has resulted in the Group 'losing focus'. Although he however believes it has a sound business model; its excellent master distributor status and manufactured product offerings; its inherent expertise and embedded skills base harboured in its workforce – combined with significant opportunity in the market – render the company an excellent candidate for positive recovery.
"I am confident that with hard work, we can continue the restructuring progress that has been made to date and can ultimately turn this company around. It is a good business with good people who, with the right guidance and leadership, can take it forward. We will assess every company within the group, prioritising sales and supply, and address and rectify challenges with both customers and suppliers to re-establish these vital connections and provide these businesses with renewed strategic direction. DAWN is a strong brand, and we will make each individual company within the group strong again. I truly believe this is a new era for DAWN," Hewitt says.
Hewitt states that short-term, continued stabilisation is required along with a medium- to long term rebuilding plan, which will be executed by him and an executive management team.
"DAWN exists because it plays an important role in the lives of both suppliers and customers," adds Hewitt. "However, large gaps exist in its market segments that are not being actively serviced. There are opportunities here for DAWN to regain market share. This, combined with its position as the leading master distributor in its industry sector and its recent model realignment to streamline costs, means the team can now focus on the future."